Best Bongs for your Money - Top 10 Water Pipes 2022
So your looking for the best bongs that your hard earned money can buy huh? Well we have the best top 10 water pipes on the market from mild to wild for you to check out. Get your best bong here! If you want to know why a water bong is a great way to smoke your herb we have a few good reasons below.
Shopping for cheap bongs online can be a chore in this day and age. The internet is full of choices for you and how do you know if it is worth the price? Is it made from durable glass, is it made in the USA? These questions we have answered for you in this top ten bongs list. We grade these bongs on a few criteria,
Durability - Thick glass, stable base, well mounted stems.
Design - Looks, ease of use, easy to clean, flow of smoke.
Smoothness - Soft hitting, aeration of smoke, cooling of smoke, flavorful hits.
So check out what we have listed below and enjoy our article on the top 10 best water pipes you can buy.

Our Picks for the Best Bongs of 2022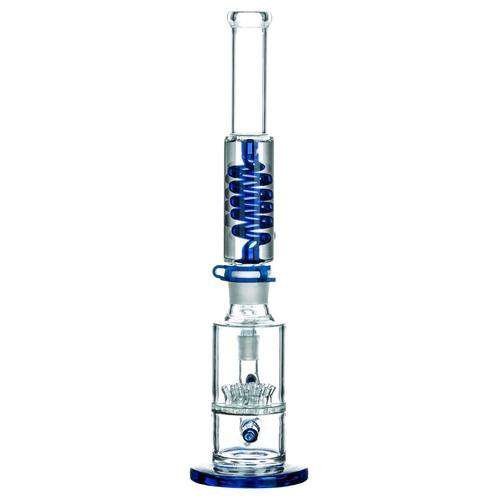 This is one of the best bongs on the market for your dollar. Smoke goes through three levels of filtration before the tasty hits get to you. It has an advanced percolation mechanism and glycerine is used as a cooling agent. One of our writers has this and says it's his best bong ever due to the ease of the removable glycerin piece. "Take it out the freezer, pop it on and start smoking!"
Place it in the freezer for your next session. The chilled 19 inch glycerine coil makes the bong one of the best bongs available by delivering smooth cold filtered hits.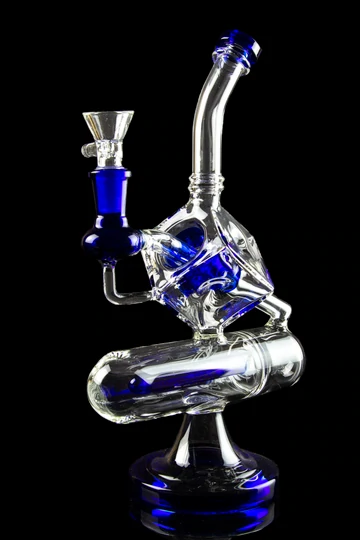 #2 - "Pandora" Inception Cube Capsule with Inline Perc
This is one of the best water pipes available that Innovative Glass Engineering can provide. This "high tech" looking Inline Capsule Perc Water Pipe has something not often seen in percolator bongs. The horizontal perc; and it works amazing! The durable thick glass body and very thick base for stability helps to make this a winner.
The beautiful water pipe delivers rich, smooth, cool smoke through the Inception Cube Design, large chambers, multiple layers of percolation and easy to handle bowl collar. Users can sprinkle fresh or dry cannabis into the funnel for optimum filtration resulting in an excellent experience. You could also switch out the bowl for a dab nail too.
You got to admit, this bong design is futuristic and beautiful.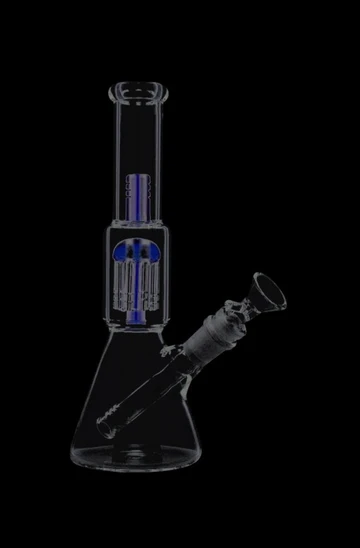 #3 - Short Neck Tree Perc Beaker Bong
This bong is also one of the best water pipes available. This pipe made from Diamond Glass is a Short Neck Tree Percolator Beaker Bong. Equipped with everything you need to smoke your favorite flower and this thing has it all.
This cool looking tree perc  diffuses your smoke after passing through a bubbling beaker chamber for smooth hits. This little bong packs all the benefits of a larger bong into a small package. It even has a mini ice catcher! You can change out the bowl with a party size to make it last longer in your circles.
This glass bong is a steal for around $100.00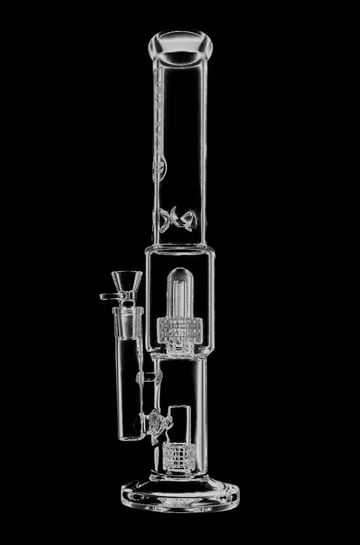 #4 - Pulsar Double Matrix Perc
This piece is one of the top 10 bongs in the market. It comes with a double matrix perc as well as an ice catcher. This smooth hitter is 16 inches tall with 5mm thick glass and solid base, allows it to stand up to most anything.
With the insane amount of percolators, this bong is the best for giving huge smooth hits. These percs will help to cool, soften and flavor your hits amazingly. Load your best buds in this and enjoy your nest session.
This artistic glass pipe is going to be a head turner at your next smoke out. So be ready to pass it around.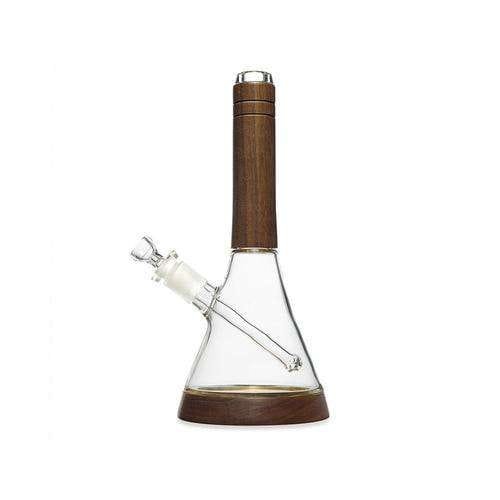 #5 - Marley Natural Glass and Walnut Wood Water Pipe
This elegant pipe is one of the top bongs in the market. The design is for those who like fine quality glassware and this is why it is hard to find. The Marley Natural Beaker Bong is designed with care and easily disassembles so that you can keep it as clean as the day it got to you. The walnut wood will age to perfection making this bong a classic heirloom for years to come.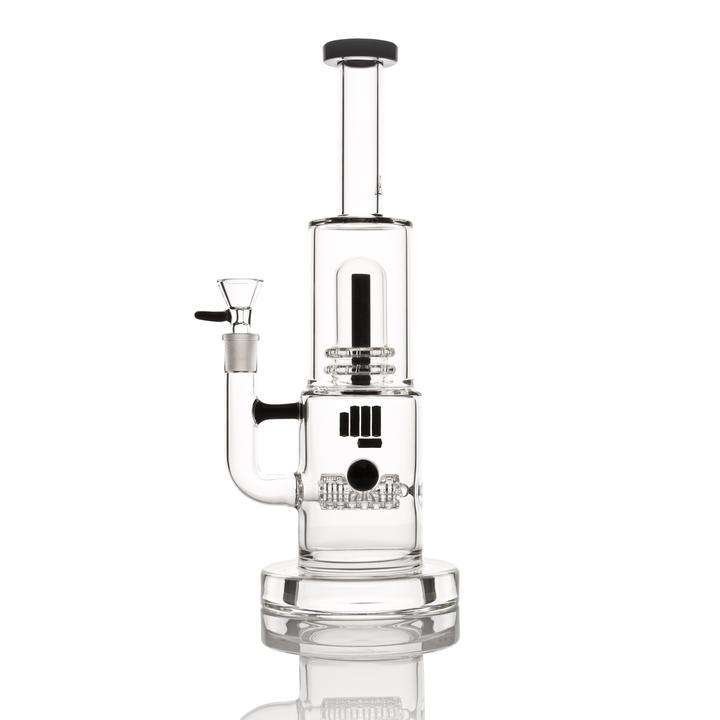 #6 - Snoop Dogg Pounds Mothership Water Pipe
The Snoop Mothership water pipe might just be the best bong on this list. It's crafted from the best 5mm thick borosilicate glass and has an extra thick base and reinforced joint for a huge level of durability. Designed for both dry herbs and waxy concentrates, the pipe kit includes a female dry herb bowl, a female vapor dome with handles and nail. That is what gets it in the top 10 bongs list.
As you inhale the smoke is cleansed and cooled through two tornado disc percs and thorough one honeycomb perc to deliver some smooth hits for years. One of the best bongs you cab buy.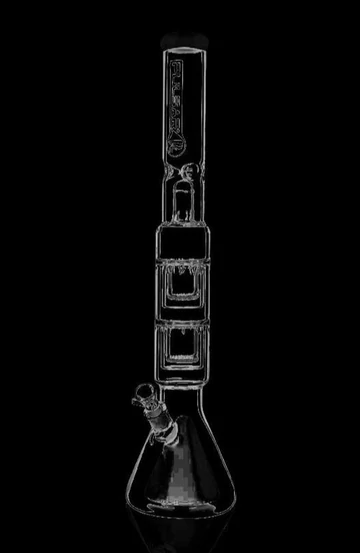 #7 - Double Inverted Showerhead Perc Beaker Bong
This bong is a awesome 21.5" inch straight tube glass water pipe has a custom honeycomb perc onboard as well as a shower head perc to gve some smooth hits, this could be the best bong in your collection. The colored accents make this bong striking. This is one of the top 10 water pipes in the market.
Place in your dry herbs or ground weed for clean refreshing hits.  This Tsunami glass muti-percalators bong, is practical at 21.5 inches with a great smooth hitting chamber. Each piece is hand made. This is one of the boldest, most unique bongs you will ever see let alone use.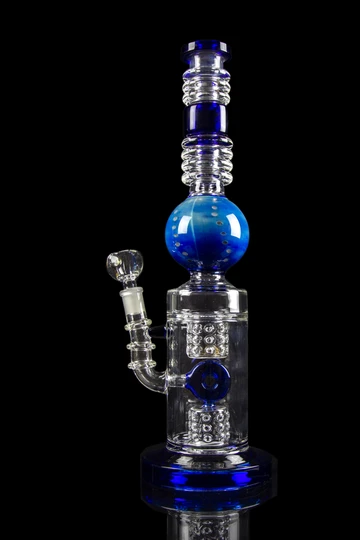 #8 - Tall Swiss Donut Orb Perc

This great pipe is designed for durability and years of use. This makes it one of the top 10 water pipes in the market. It is made of scientific borosilicate glass and has a stylish and elegant design.
The doughnut perc has a 14mm female joint and the smoke is filtered by a large stereo matrix percolator. The texture of the glass is bubbled and it has a colored, eye catching neckline in the shape of an arch. The bong comes with a 14mm male herb slide and likewise, a 14mm bowl too. This could be one of the best bongs in 2021.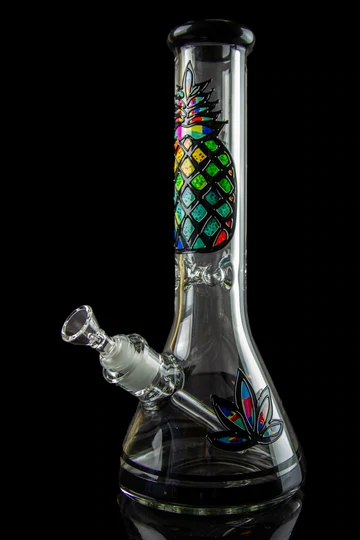 #9 - Psychedelic Pineapple Beaker Bong
This high end water pipe is made in America and made of extra thick 6mm glass. Each detail of the water pipe is of the highest quality. Famous Glass, a new line of water pipes combines timeless water pipe designs with trendy eye catching patterns. With its vibrant patterns, and bold graphics, this line has a bunch of great options for you.
Each pipe also comes with a collectors edition gift box. Handcrafted from quality thick borosilicate glass, this 12" water pipe features a slitted downstem for smooth diffusion and easy removable cleaning.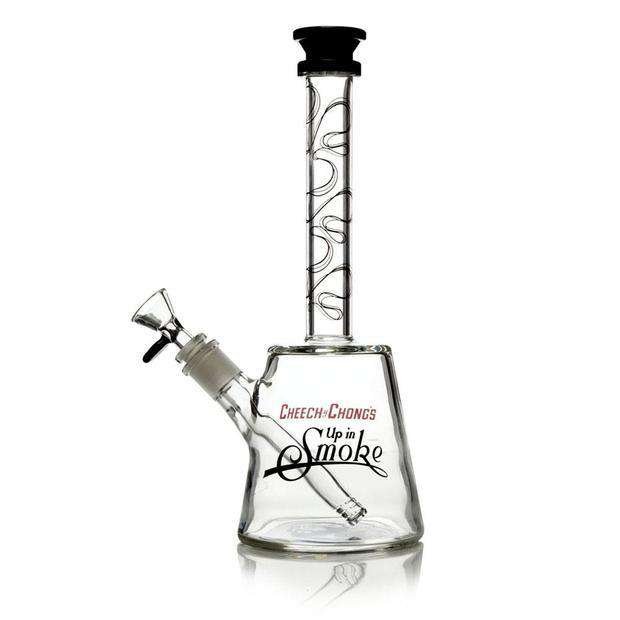 #10 - The Chong Bong
California based Famous Brands created this bong in their studios. They are known for making high quality bongs. This beautiful piece is made to celebrate the 40th anniversary of the original stoner movie in style.
This is one of 6 limited designs made by them so get them while they last. This is a unique design and offers an exhilarating inhalation experience. Made from durable glass this is a 12" Straight Neck Bell Beaker Water Pipe with a downstem diffuser for a smooth draw. Because of that you get some great hits.  Be sure to pick up this water pipe before they are all sold out.
These best bongs 2022 are not only decorative and made of the highest quality glass; they are also designed in innovative ways to give users the best possible smoking experience. You can also place various sizes of bowls and down stems with better percolators in them as well.
Hope you enjoyed our article on the the best bongs for the 2022 year that you can buy online.
Why Water Bongs are Great for Smoking.
There are many reasons why a water bong is a great choice for smoking cannabis. Some of the main benefits of using a bong include:
 The cool water filtration system helps to filter out harmful toxins and impurities in the smoke, making it a much safer and smoother experience than smoking joints or other methods.
 The water also acts as a natural diffuser, breaking up the smoke so that it is easier on your lungs.
 Bongs are incredibly efficient at delivering THC and other cannabinoids to your system, meaning you get a much more intense high from a smaller amount of weed.
Water bongs are also great for social smoking, as it is easy to pass around and share with friends. This makes them a great choice for parties or gatherings where you want to be able to enjoy your weed without having to worry about being too high.
Overall, there are many reasons why a water bong is the best choice for smoking cannabis. Whether you are looking for a safer, smoother smoking experience, or you want to be able to get the most out of your weed, a bong is definitely the way to go.