Top 10 Best Glass Hand Pipes for 2023
Here is our curated and updated list of  the best glass pipes for 2023, we're sure you will want to check them out and add some to your collection. This is our 4th year bringing you our top 10 best glass pipes that were found on a top online headshop.
Some of these are new, some are iconic old timers, and some are here because so many of you liked them so much last year. Hope you like our suggestions. Purchase one to help fill your collection or for your smoking needs this year.

Here are our picks for Top 10 Glass Pipes in 2023.
---
#1 – Marley Glass Bubbler
Made with very high quality glass and craftsmanship, this glass bubbler from Marley Naturals is a beautiful pipe. This is one of your favorite pipes in 2021 from our data.
This glass pipe is nothing like any other pipe you have seen. This glass bubbler is stunning and hits as good as it looks. A deep reservoir for water, a medium size bowl and an easy to use side carb, this pipe is one of a kind.
---
#2 – Freeze Pipe with Glycerin Chamber
As we like to keep this top 10 list interesting, here we have a glass pipe like no other and is bound to be a conversation starter at the next smoking session. For our number two spot, we have this glycerine freezable hand pipe!
The Freeze Pipe Hand Pipe is perfect for smokers that are tired of using the old school short hand pipes due to the harshness of the hits. When smoke passes through this pipe's frozen chamber, it's instantly cooled to deliver you some of the biggest and coolest hits ever from a glass pipe.
---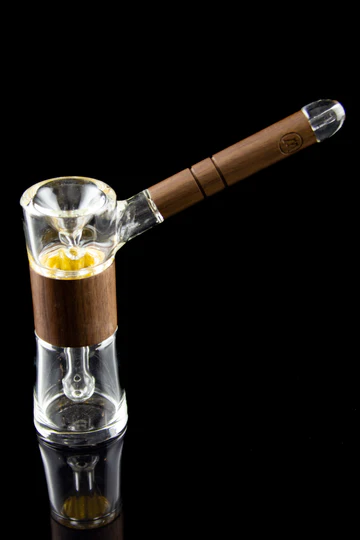 #3 – Marley Natural Black Walnut Bubbler
This bubbler is a fusion of water and dry pipe technology, providing the ultimate smoking experience. Its base allows for maximum filtration with plenty of room to spare, while its globe-shaped percolator guarantees superior smokability. Crafted from only the finest borosilicate glass and sustainable black walnut wood, this piece can easily be disassembled for easy cleaning–so you get both top performance and effortless upkeep!
With a mission to deliver unforgettable and exceptional products, MARLEY NATURAL™ presents its line of items made from sustainably cultivated black walnut and handcrafted glassware. This exquisite collection is designed with the perfect blend of intuitive form and Jamaican-inspired accents, guaranteeing longevity, easy maintenance, sophisticated design – allowing you to enhance your smoking ritual.
---
 #4 -Pollux Propeller Perk Hammer Pipe
This fun pipe from Sesh Supply is one of the most coolest pipes we have seen in a while.  Made with love from Sesh Supply, this pipe is durable, functional and will be the one everyone want to hit.
This beautifully made glass pipe has been handmade from durable borosilicate glass with amazing colors.  Propeller Perk Pipe has a deep bowl for your herbs and a long stem with a spinning propeller on the end. This helps to smooth the hits.  This is a must have for anyone who enjoys using custom glass and for this year is number four in our top 10 best weed pipes.
---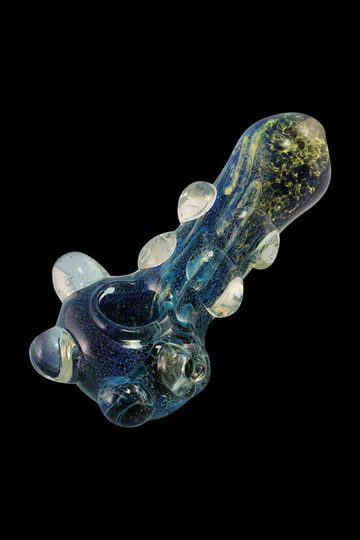 #5 – Cosmic Marble Pipe
Crafted with thick, durable borosilicate glass and measuring an impressive 5" in length, this glass hand pipe offers powerful hits that have been filtered for a smooth smoking experience. Not only does it boast a robust build quality but also exudes style thanks to its beautifully crafted marble glass construction; making it the perfect choice for those looking for both quality and affordability.
With hand-crafted pipes, you can expect something truly one of kind. Each pipe is delicately and individually crafted to bring out its unique qualities, with a range of sizes, colors and designs available for selection.
---
#6 – Marley Glass – Walnut Wood Spoon Pipe
This hand-blown glass accents sustainably sourced walnut wood for a awesome look that's sure to get you some complements. The pipe's perfect 4.5 inch size rests comfortably in-hand while the glass spoon resists heat. One of the best weed pipes made.
This pipe has a sophisticated appearance and quality construction. This glass pipe also breaks down into two pieces, making it easy to clean and is bound to be a conversation starter at the next smoking session.
---
#7 – Genius Pipe
Ok, so this is NOT a glass pipe but we have to cover it here. The Genius Pipe is one of the most original hand pipes on the market today. This very modern and well designed pipe uses three simple pieces to give you some ice cool hits using tiny metal ridges to diffuse smoke and dissipate heat. These pieces can separate to make it easy to clean.
The third piece is the metal slide which when pulled reveals the mesh bowl.
This pipe is perfect for the smokers that keep up with the latest smoking gadgets. The compact design makes it easily slide into any bag or pocket.
.
---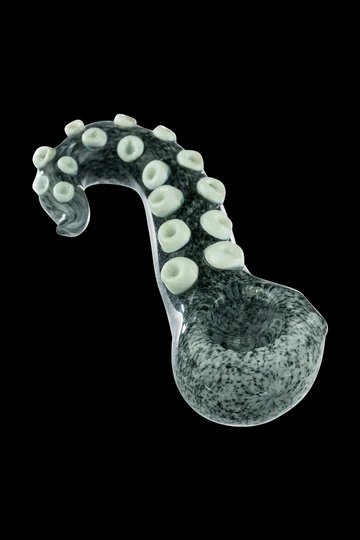 #8 – Glass Tentacle Spoon Pipe
Be the baller at the next smoking session with this high end glass pipe. Try not to get wrapped up with this awsome looking hand made octopus tentacle pipe from BOO Glass. Features suction cups along the entire inside tentacle and a generous recessed bowl and a side thumb carb. This pipe come is various colors as well.
Made with thick, scientific-grade borosilicate glass, each tentacle when finished is approximately 5″ inches in length.
---
#9 – Doughnut Smokeable Coffee Mug
No pipe collection is complete without one of these iconic coffee cup pipes. This Doughnut Coffee Mug pipe is a great feature for any collector. It has an 18 ounce capacity and can hold some decent sized bowls of herb.
The Doughnut Coffee Mug pipe has long been a great way to enjoy your cannabis and hot beverage when you waking and baking. Be sure to pick up one of these and ad it to your best glass pipe collection.
---
#10 – 7″ Grave Upline Steamroller
The heavy hitting steamroller from the mad-science minds of GRAV has been a top seller. You can get this is various colors.
This unique steam roller helps to cool the airflow for smooth hits. Its superior cooling power helps to smooth out the huge lung bursting draws. The iconic steam roller has been a staple in every true smokers collection and this one will add to yours. Get your favorite color glass pipe steam roller and enjoy some huge hits. This glass pipe steam roller will last you years to come and many, many smoking sessions.
---
Why buy a glass pipe?
Glass pipes, in the world of cannabis the glass pipe has become the dominate hand pipe of the newer generation. Glass blowers have been crafting this type of smoking pipe for decades now and have made this the #1 sold, type of glass pipe in the last 10 years.
They come in many shapes and sizes as you may know and you can pick up some great glass pipes for cheap. From large Gandalfs, pocket size peanuts, steamrollers, bubblers to elaborate pieces that change color due to the fuming process when made, most anyone can find a favorite. Now if your looking for one of the top 10 bongs we have a place for you to go.
Nowadays it is easy to hop online and in 5 to 10 minutes, buy glass pipes for your liking with huge bowls for smoking.  When choosing to buy a glass pipe be sure to look at the way it is made as you always want a functional piece. So a large deep bowl, an easy to find and usable carb, a strong shank, thick neck and comfortable mouth piece makes for a great glass pipe.
Make sure your next pipe is made with a
thick American glass
to help resist breakage if you ever drop it.
But now with so many glass pipes for sale online how to choose a good one, what's the best glass pipes? Where to begin?
Well that's our top ten glass pipes we recommend any collector and daily smoker should have. Have fun when you go out shopping to buy glass pipes. If your needing a vaporizer we have the best vaporizers listed for you! Cheers!