The 10 best weed vaporizers you can buy online.
Are you sick of trying to find the best weed vaporizer?  We show you the ten best weed vapes that we think you will love. If you prefer oil, concentrates herbs or flower, there is a pen for you on this list.
The top 10 best cannabis vaporizers for 2023 have been picked. And a few newcomers have show up. Once again we scoured the webs, done the research and found the top hand held vaporizers for 2023. No matter if you prefer dry herb, oil vapes, or a dual purpose device – we've got you covered. From size to features, we're sure you'll find the perfect vape for your needs and all of these have great vapor quality. So sit back, relax, and check out our picks for the best weed vaporizers of 2023!
The top contenders are:
Best Weed Vaporizer Categories
---
| Category | Portable Vape | | |
| --- | --- | --- | --- |
| Best Overall Value in Portables | Pax 3 | | |
| Best in Quality for Vapor Taste | Firefly 2 | | |
| Most Portable/Discreet | DaVinci MIQRO | | |
| Best Compact Design | AirVape XS | | |
| Best in Tech | DaVinci IQ 2 | | |
| Longest Battery Life before Recharge | Pax 3 | | |
| Biggest Herb Chamber/Oven | Crafty | | |
| Best Portable Under $200 | Pax 3 | | |
| Best Portable Under $100 | DaVinci MIQRO | | |
| Best 3 Way Vape - Oil, Herb, Concentrate | DaVinci IQ 2 | | |
| | | | |
---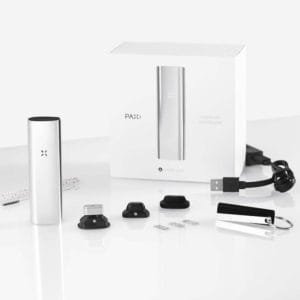 #1 - Pax 3 Vaporizer - This is the best weed vaporizer on the market.  The all-new third generation PAX is here, and it's the only vaporizer you need - now with dual function for both dry herbs and extracts! This incredible device comes with everything you require to start enjoying your favorite vaping materials. With PAX, discover an entirely new way to vape that gives you the flexibility of choice in what type of material you use.
Choose the color that most speaks to you (our favorite is gold!), and with one-touch activation, a glowing green LED light, and gentle vibration upon pressing, this unit emits vapor within 22 seconds--half the time of its predecessor. The 3500 mAh battery puts out 8-10 full vaping sessions per charge. At an inexpensive price of $199.00, it's no wonder why this model remains unparalleled in efficiency in the vaporizer industry!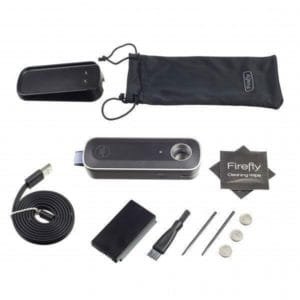 #2 - The Firefly 2 - The Firefly 2 is the number one choice when it comes to vaporizing herbs, marijuana and concentrates. It has been coined as the "iPhone of Vaporizers" due to its innovative design and outstanding performance. Inhaling from this device will provide you with rich clouds of smooth vapour for an optimal vaping experience - thanks in part to its filtered mouthpiece and superior borosilicate glass pathway which are both easy-to-clean features that make maintenance a breeze!

The unit can reach an unbelievable 400°F within 3 seconds or less. The Firefly 2 is even more remarkable with its touch sensor buttons to instantly activate the heating coils, as well as a convenient smartphone app for adjusting temperature and preferences. If that wasn't enough, users are provided with a USB 3.0 charger which fully recharges in only 45 minutes - plus all necessary cleaning tools! To top it off, this highly innovative device is backed by a limited two-year warranty, so you won't want to miss out on such an amazing deal!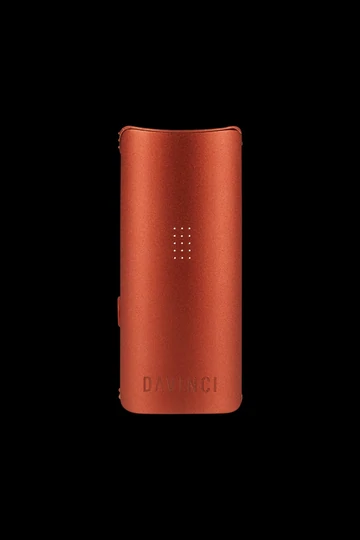 #3 - DaVinci MIQRO -  This very discreet vaporizer designed to easily fit into your pants pocket or purse pocket. Made from the leading manufacturer DaVinci, this is a fully functioning herb vaporizer with temperature settings from 360° - 420°F.
This vape pen features a 100% pure ceramic zirconia airpath with thermal-resistant inert surfaces, the MIQRO delivers pure, smooth vapor.
An adjustable oven enables you to customize bowl size by up to 50%. This vaporizer is also backed with a one-year manufacturer's warranty. This is one of the best weed vaporizers in mini form, you can buy right now.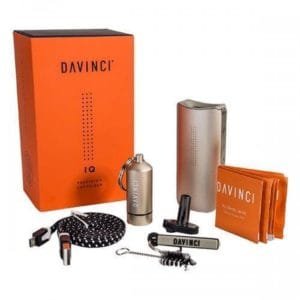 #4 - DaVinici IQ Vaporizer - If you're searching for the ultimate in weed vaping experience, look no further than DaVinici IQ. This is the best cannabis vaporizer for handheld, and is packed with innovative technology and gives users access to some of the biggest hits out there thanks to its unrestricted airway. Forget about average—this unit offers an incomparable level of intelligence when it comes to weed vapes!
If you are looking for one of the best tasting hits, then check out The DaVinci IQ. This unit pulls marijuana vapor through its 100% ceramic zirconia pathway, allowing for a delicious experience every time. An LED light display keeps you informed on temperature and modes while a smartphone Android/OS app makes it even easier to use than ever before.  You can also use this as an oil vape pen. Furthermore, this amazing device has an impressive sixteen second heating speed resulting in huge clouds of vapor each and every time.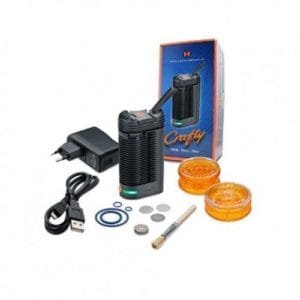 #5 - Storz & Bickel Crafty - This amazing handheld vaporizer from the experts at Storz & Bickel turns your favorite strains and liquid concentrates into huge tasty hits of vapor. This compact vapor unit features a HUGE herb chamber, smart phone app to precisely adjust heating temps, charger, cleaning tools and a grinder! The Crafty is a great dual purpose vaporizer that is well worth the price. Load up your flowermate and enjoy this vape.

With the limited 2 year warranty you can't go wrong picking up this unit from DopeBoo.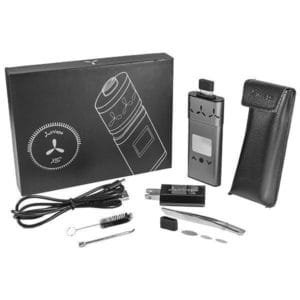 #6 - The AirVape XS - This very thin and discreet herbal portable vape has a lifetime warranty! The AirVape XS features a luxurious leather sleeve, a versatile USB charger with a wall adapter, advanced digital temperature control, glass mouth piece, very long battery life, easy to clean deep ceramic herb chamber and a very strong solid steel shell that doesn't bend or break when in your pocket.
This unit also communicates to you through vibration, letting you know when its ready to hit your THC filled wonder and when it's about to auto shut off. Each piece can be customized with your choice between Mystic Grey, Rose Gold, Red Gold, and Midnight Blue. With a lifetime warranty this is one vaporizer every backpacker or outdoors person needs. This best weed vape is an awesome buy.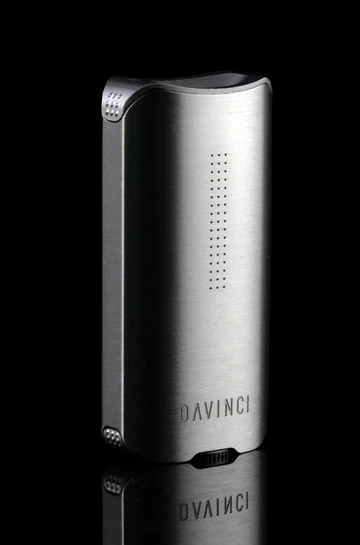 #7 - DaVinci IQ 2 - This is the newest unit from Da Vinci. This new state of the art pen incorporates unprecedented technology, named the 'Know Your Dose' feature. This allows you input your potency information and the amount of ground herb/extract in your chamber. This lets you track the amount of active compounds delivered per draw.
This dual purpose unit vapes oil and is the best dry herb vaporizer on the market. This is the best device for consumption of concentrates and oil.
It features an all ceramic vapor path is engineered with zirconia components and a glass-lined ceramic bowl to ensured unprecedented purity and flavor. a metal pick, 3-hour batteries with wall charger, and a lightweight sleeve.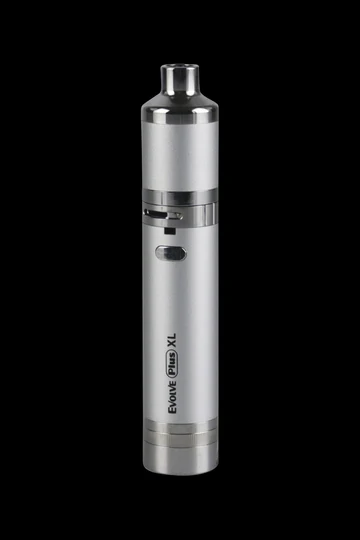 #8 - Yocan Evolve Plus XL -  The Yocan Evolve Plus XL Vaporizer is an extraordinary device that caters to both novices and veteran vaporizers. This nice unit makes our best vapes for weed list, due to the perfect size and weight. Its magnetic chamber connector, leak-proof coil caps, airflow control system and adjustable temperature range of 200 - 460°F make it a powerful choice for enjoying wax concentrates with optimal efficiency.
Not only does this package come with a spare quad quartz coil, but also a convenient lanyard ring - so you can take your vaping journey wherever life takes you! You can replace the coils and coil caps of this special vape on Smoke Cartel. Moreover, it contains a USB charging port that allows you to conveniently charge up almost wherever you are!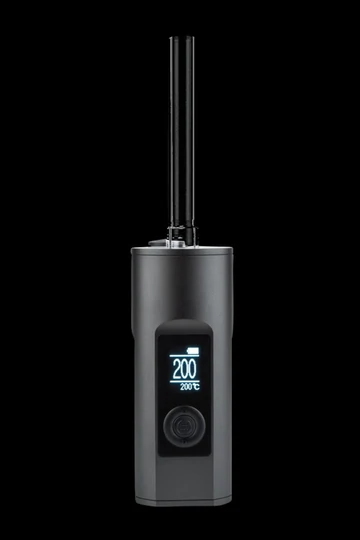 #9 - Arizer Solo II - This little power house is another very discreet cannabis vaporizer. The Arizer Solo II is a great unit to carry everywhere. The ceramic elements deliver pure vapor while the glass vapor path provides maximum flavor transfer.
If you want a affordable discreet marijuana vaporizer, then the Arizer Solo II is the best vaporizer on the market for that niche.
Powered by built-in dual 18650 batteries, the Arizer Solo II provides an impressive three hours of use per charge.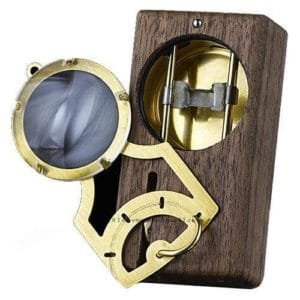 #10 - Maud-Dib - The new Magic Flight box is here, Muad-Dib (pronounced maw-deeb) is a concentrate box that contains everything you need to vaporize concentrates and oils. This is a great weed vaporizer.
This great little vaporizer features a brushed brass lid, an optical grade glass lens, and a brass bowl insert, 1.5 ft black silicone draw whip with brass ends to cool the hits, 2 x rechargeable NiMH Glyph batteries, battery charger and a lifetime warranty! Best weed vape in wood.
---
What is a Handheld Weed Vaporizer?
A handheld weed vaporizer, also known as a vape, is a device used to heat cannabis and extract its active ingredients for inhalation. Unlike traditional smoking methods, vaporization heats the cannabis to a temperature that releases its active compounds without combusting the plant material. This results in a smoother, healthier, and more flavorful inhalation experience.
Types of Handheld Vaporizers
There are several types of handheld weed vaporizers on the market, including:
Convection vaporizers: heat the cannabis through hot air, resulting in a more even vaporization
Conduction vaporizers: heat the cannabis by direct contact with a hot surface
Portable vaporizers: small and convenient to carry, they run on batteries and can be used on the go
How to Use a Weed Vaporizer
Using a handheld weed vaporizer is easy and straightforward. Here are the steps:
Fill the device with ground herbs of choice, or concentrate depending on unit
Turn on the device and set the temperature to your preferred setting
Push button, wait a second or two for the device to heat up
Inhale from the mouthpiece
Repeat as nessasary
Why are Handheld Weed Vaporizers Popular?
Handheld weed vaporizers have become increasingly popular for several reasons:
Health benefits: vaporization is a healthier alternative to smoking, as it doesn't release harmful chemicals and toxins
Discreet use: the vapor produced by a weed vaporizer is less noticeable than smoke, making it a convenient option for discreet use
Improved flavor and potency: vaporizing cannabis releases its active compounds at a lower temperature, preserving the plant's natural flavors and potency
Great convection heating for herbs. The heat elements come in many varaites.