Best Bongs for Smoking Weed!
Greetings fellow enthusiasts! If you're searching for the best bongs for 2023, you've arrived at the right place. We've been curating this list for a decade now, and this year is no exception. Our list comprises top 10 bongs that vary from traditional beaker bongs to sophisticated multi-perc powerhouses. We've selected these incredible pieces from leading online smoke shops, ensuring they cater to both the beginners and the experienced users. Plus, they're all budget-friendly!

Choosing the best bong can make your sessions incredibly smooth and profound. Add some ice to the mix, and the experience becomes even more exhilarating. But don't just take our word for it – dive into the hype yourself and discover the best bongs you can invest in. With our top picks, you're set for years of unforgettable sessions. So, let's fire it up!
Our top 10 bongs for 2023 have been evaluated based on the following criteria:
Durability – Considering aspects like thick glass, a stable base, and well-attached stems.
Design – Assessing aesthetics, ease of use, cleaning simplicity, and the smoke flow.
Smoothness – Evaluating the soft hit capacity, aeration of smoke, cooling of smoke, and flavorful hits.
Without further bullshit, let's load-up, and light up this article into the best bongs of 2023!
---
#1 – Glycerin Chamber Bong
Best Overall – This is our top, #1 best glass bong for 2023.
The undisputed leader of our list, this is our pick for the best glass bong of 2023. This water pipe checks all boxes when it comes to durability, design, and portability. The three-tier filtration offers an extraordinarily smooth and flavorful hit. It's easy to clean, and the removable glycerin piece, when chilled, can elevate your smoking experience.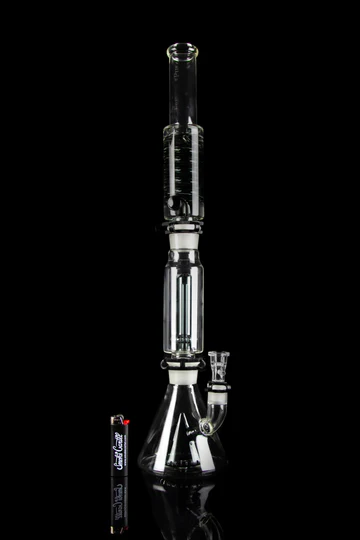 ---
#2 – Prism Rasta Triple Stack Modular Bong
Standing tall at 25 inches, this bong offers a sleek design and unmatched convenience. Its components can be effortlessly disassembled and reassembled for easy transport and storage. The twin percs offer twice the diffusion and filtration power. Moreover, it can be easily modified to reflect your personal style.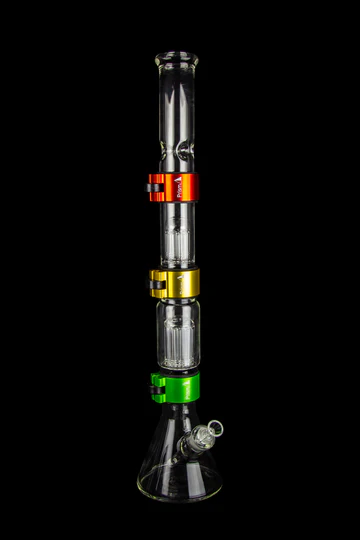 ---
#3 – Short Neck Tree Perc Beaker Bong
This is another top-of-the-line bong that combines form and function. It comes equipped with a tree percolator and a mini ice catcher. This bong promises the benefits of a larger bong packed into a compact, sleek design. It takes the 'Smoothest Hitting' award on our list.
This glass bong is a steal for around $100.00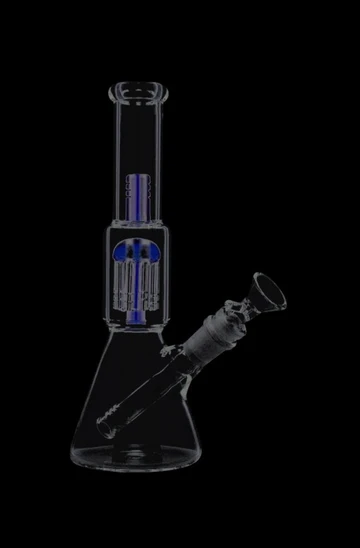 ---
#4 – Pulsar Double Matrix Perc
This piece, one of our top 10 bongs, comes with a double matrix percolator and an ice catcher, making it a winner in delivering smooth, flavorful hits. Its design allows it to stand the test of time, and its stunning aesthetics will certainly turn heads during your sessions.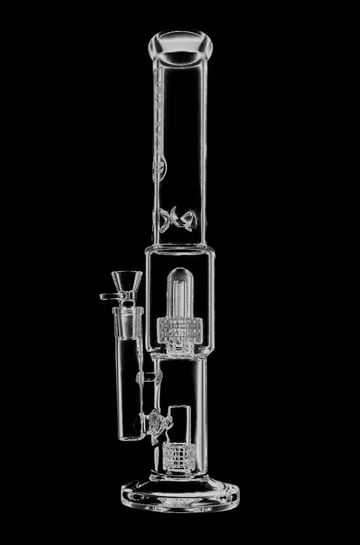 ---
#5 – Bong in a Bong Beaker
Experience innovation with this piece, which incorporates a mini beaker percolator within its structure. It ensures flavorful and smooth hits, making it a top choice for the modern smoker.
The ultra-modern Beaker on Beaker is available in various colors based on availability.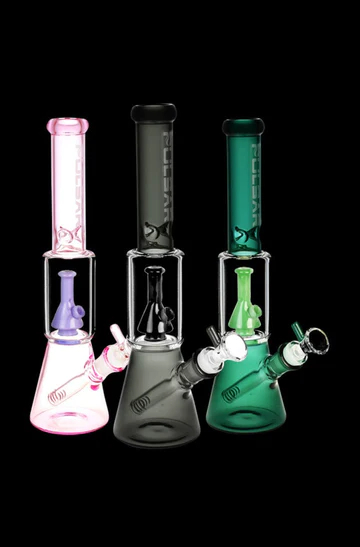 ---
#6 – Snoop Dogg Pounds "LAX" Water Pipe
Elevate your session with the unique and premium collection by Snoop Dogg. The sturdy base and disc percolator make for smooth and flavorful hits. Each piece in this collection is adorned with Snoop's signature, offering a unique style statement.
"Live life, get high and enjoy the ride" -Snoop Dogg.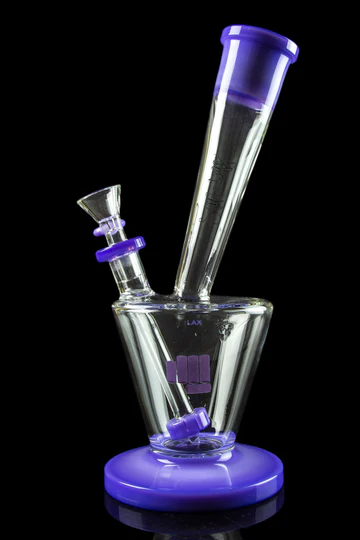 ---
#7 – Double Inverted Showerhead Perc Beaker Bong
This 21.5-inch bong incorporates a custom honeycomb and showerhead percolator for smooth hits. The colored accents add to the appeal, making it one of the best bongs for 2023.
This bong is among the top choices you can make today and is sure to be the centerpiece of the smoke out sessions. Don't miss out on owning it – grab yours before they're all bought up.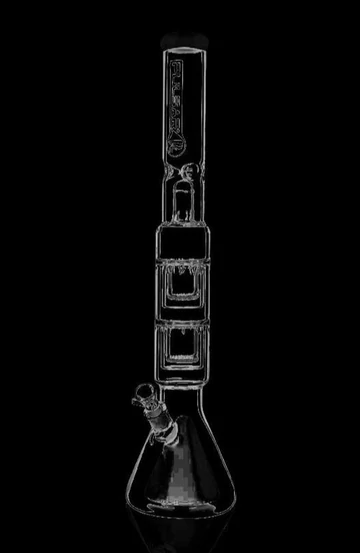 ---
#8 – Tall Swiss Donut Orb Perc
This bong, with its futuristic design and durable construction, is truly an eye-catcher. The sci-fi inspired design, along with its exceptional durability and unique styling, earns it the 'Best in Durability and Design' award.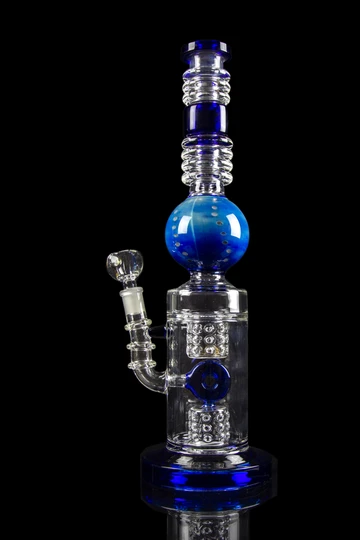 ---
#9 – Psychedelic Pineapple Beaker Bong
Made in America, this beaker bong is both visually appealing and durable. Its easy-to-clean design earns it the 'Easiest to Clean' award, making it a great addition to any collection.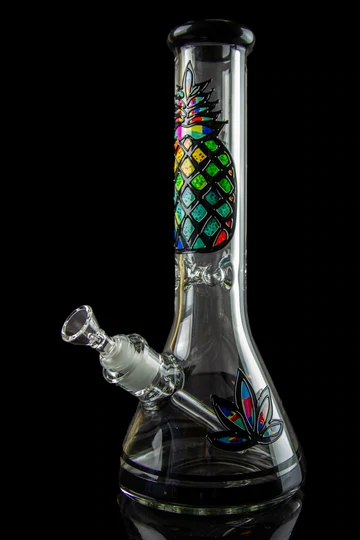 ---
#10 – The Chong Bong
This uniquely designed piece commemorates the 40th anniversary of the original stoner movie 'Up in Smoke.' It combines great features and compact design, earning it the 'Best Portable' award for best bongs in 2023.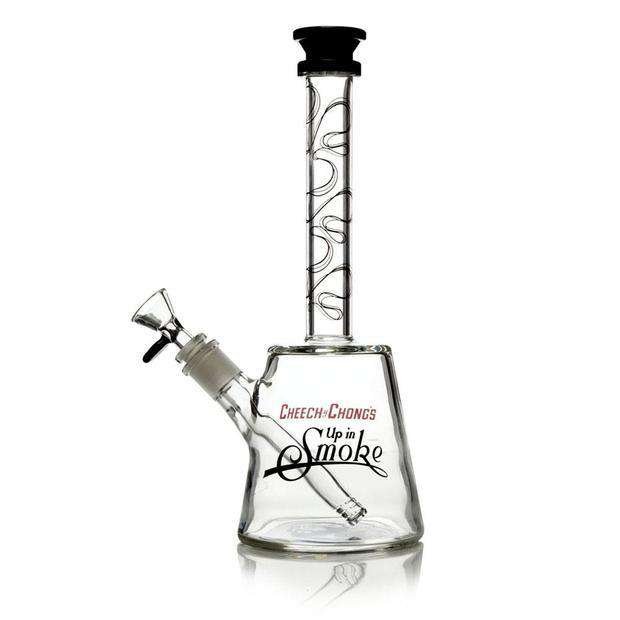 ---
These best bongs 2023 are not only decorative and made of the highest quality glass; they are also designed in innovative ways to give users the best possible smoking experience. You can also place various sizes of bowls and down stems with better percolators in them as well.
Best Bong Materials
So you're in the market for the best bong, but you're not sure what material or size to go with. Let's take a look at the pros and cons of each type of bong so you can make an informed decision. Bongs come in many sizes and materials, all catered to your preferences. The war of silicone or glass bongs rages on.
Glass – Glass bongs are perhaps the most popular type on the market. They come in every size and design imaginable from small to very long. They offer a clear view of the water and smoke, and they're generally very easy to clean. However, glass bongs can be fragile and easily break if dropped.
Ceramic – Ceramic bongs are another popular option. They're often quite beautiful, artistic, elaborate, and painted. They also offer pretty good durability. However, ceramic bongs can be difficult to clean and may absorb some of the flavors of the smoke.
Acrylic – Acrylic bongs are a less popular option, but they offer some unique benefits. They're often very affordable, and they're practically indestructible. However, acrylic bongs can impart a plastic-y flavor to the smoke, and they're not as visually appealing as glass or ceramic bongs. Acrylic bongs come in many sizes, if you have seen a 4 foot bong it was probably acrylic.
Silicone – bongs are an increasingly popular choice among cannabis consumers due to their durability and flexibility. Made from food-grade silicone, these bongs are known to be virtually unbreakable, easy to clean, and ideal for travel due to their collapsibility. However, on the downside, silicone bongs may not offer the same level of smoothness or flavor purity as their glass counterparts.
So, which type of bong is right for you? It really depends on your personal preferences and choosing the best bong for your lifestyle. All three types have their own advantages and disadvantages, so it's up to you to decide which is most important to you. Happy bong shopping!