The best Colorado campgrounds have been put together and are listed here just for you. Colorado isn't just enjoyable for its lax laws on recreational cannabis activities, it is also a place for camping where you can get off the grid and stay for a long while, if you should choose to. Explore all of the vast mountains, lakes and valleys available for your adventures. The terrain here earns Colorado it's respect from all around the world.
Regardless of Colorado's popularity, you can still find hidden gems of natural wilderness stretches all across the state for you to get lost in. Getting some tips for Colorado cannabis travel is a good thing to do as well. Booking a Colorado marijuana vacation is becoming very popular among adults young and old these days, in that most modern travelers want something different in a vacation.
That remoteness Colorado has is partly why there's few things better than a secluded, camping spot where you'll only run into nature, including some wild animals.
Let's keep the buzz going to make the most of Colorado with these must-see 420 friendly camping grounds and non-cannabis friendly campgrounds. You'll find them easy to get to, private, and some of the best places to camp in Colorado.
Top 4 Best Colorado Campgrounds
---
CanyonSide Campground – 420 Friendly
Canyonside Campground is a 420 friendly campground located in the beautiful scenic Poudre Canyon is right across from Cache La Poudre River. This very scenic campground has everything you could want in a Colorado retreat and is our #1 pick for the best Colorado campgrounds.
Equipped with five fully furnished cabins, ten RV sites with full hook ups, and a large tenting area, this place has room for everyone.
Things to do include: dramatic scenery for hiking through and exploring, outstanding recreational opportunities, such as white water rafting, kayaking, fly fishing, and horseback riding.
This place is a must visit for the cannabis tourist! You can find more information on their site. – Canyonside Campground Information.
Sunshine Campground
The Aspen forest, with its secluded feel, is what Sunshine Campground gives you. The dense forest shines in autumn as yellows, golds, reds, oranges and the grays of birch bark come to life.
This campground is on National Forest land so no cannabis here.
Sunshine Peak has a 14,000-foot elevation as part of the San Juan Mountains. This location gives you the glory of Colorado state simply by camping. You can see the breath taking views in this video from Curtis Simpson .
Consider a day trip to "Telluride" for a small-town experience to take with a loved one. Here, food and craft shops scatter about. Telluride was once a thriving mining center.
You can camp in the nearby forest and plan ski trips with friends in the winter or golf in the warm summer weather. The town's main road centers on mountains that stand in distanced for a breath-taking view.
You're allowed to RV or pitch a tent without requiring reservations. Find more information about Sunshine Campground here, –Sunshine Campground Information .
Oh Be Joyful Campground
Here's a Coloradan reserve with green spruces added to its fall colors. The plant life lays along hilly slopes and meandering stream beds. Each site comes with a fire pit and table and despite this being a free campground, it is incredibly clean. This helps the campground to be one of the best Colorado campgrounds.
This location is open for everyone to indulge into the recreational mood. "Be Joyful" camping is free camp ground. The Elk Mountains are home to pristine rivers such as the Crystal and Roaring Fork rivers.
Surrounding peaks ascend to 14,000 feet. They separate where Roaring Fork Valley opens up to clear the grounds for camping. This is a sight you'd want to hold on to for star gazing.
Castle Peak and Snowmass mountains have marble, quartz, granite and limestone in them. The reserve is home to fly-fishing with hiking and mountain biking easily accessible.
The central camping grounds settle by Slate River. Campers feel at home with roughly 15 areas assigned to them. Even with the snow as a "big" potential in winter, camping stays open throughout the entire year.
Find out more information on this campground here. – Oh be Joyful Campground Information
Maroon Bells
You may want to consider hiking trails along White River National Forest. Afterward, you can settle at the foot of Maroon and North Maroon peaks. You'll feel the high of two rising slopes across Maroon Lake, with a picture-perfect moment every time.
These are snow-capped mountains that remain white all year.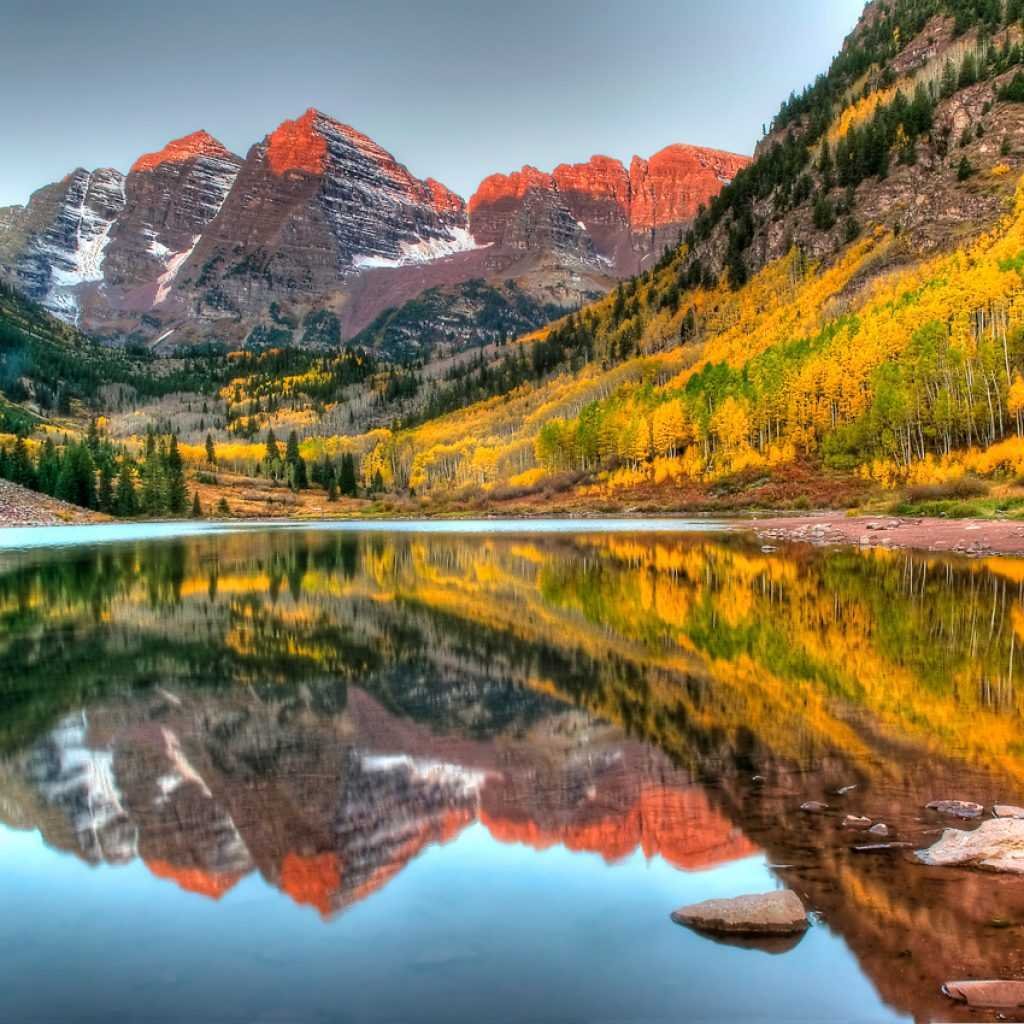 Expect the hematite in exposed stones to create a red-to-orange glow. The "maroon" colors range with the rising or setting sun. The seclusion is great for you to invite a special date to.
The area has restricted access, so there aren't many routes people can use. The middle of the week is best if you want solitude for enjoying these best places to camp in Colorado.
Camping is possible with 14-different grounds to pitch on for star gazing. These flattened valleys grow wild flowers with pines seen around in a 360-degree view.