Cannabis tourism is becoming a booming industry, inviting millions of tourists across the world to participate in weedcation. If you're also planning a chill cannabis vacation with your friends, there are a number of things that you should know.
The truth is, planning a weedcation is not like other vacations that you go to; it has to be planned with a lot of attention and care. Why? Because cannabis is a controversial subject where you can expect its laws to be changed every other day. Knowing what and what not to do is imperative. Otherwise, you can land in serious trouble.
Read our article to know how you can safely plan a cannabis vacation and have a lot of fun.

8 Tips for Your Weedcation
#1 Pick a Recreational State for Your Staycation
The first and foremost step is to pick a recreational state that is closest to your location. This is because choosing a recreational state would cut down your chances of getting into any trouble.
At present, these are the states where recreational cannabis is legal: Alaska, Guam, Illinois, Maine, Arizona, California, Colorado, Connecticut, Massachusetts, Nevada, New Jersey, Michigan, Montana, New Mexico, Virginia, Washington, Washington, D.C., New York, Oregon, and Vermont.
#2 Keep up With the Laws
Before you plan anything, make sure you keep up with the laws and regulations regarding cannabis. Whatever recreational state you choose, make sure to research the local laws before traveling to the state. You can take the help of cannabis maps which will help you navigate the laws in different jurisdictions.
One thing you must know is that public consumption of marijuana is banned. You can't consume weed on any public property or anywhere near them. This could put you in serious trouble. Besides, you can't take marijuana with you when traveling by air. So, read about all these rules and plan your trip accordingly.
#3 Pack All You Need
Since marijuana is legal in most US states, people can now plan to go on a vacation and get high. If you're one of them, you need to be well prepared. Pack all the essentials that you might need on your trip. For instance, if you're planning to use cannabis concentrates or extracts, make sure to pack dab rigs for dabbing.
You can get a variety of collections at https://www.kings-pipe.com/collections/oil-dab-rigs/ as you will get oil dab rigs for sale. If going with edibles, make a list of all the edible products that you would buy from the dispensary. If possible, you can prefer buying other marijuana products when you get to the location.
#4 Book a Hotel or Airbnb That Allows Pot Smoking
Whenever planning a cannabis-friendly trip, make sure to find an accommodation that allows you and your group to smoke weed. After all, that's the whole fun! All you need is to carry your device with you and find a convenient place to spend your days.
After a bit of research and the right guidance, you can find plenty of cannabis-friendly air bnbs or hotels that even provide porches for smokers. You can even offer the staff to pay them extra for a separate outdoor space where you can consume weed.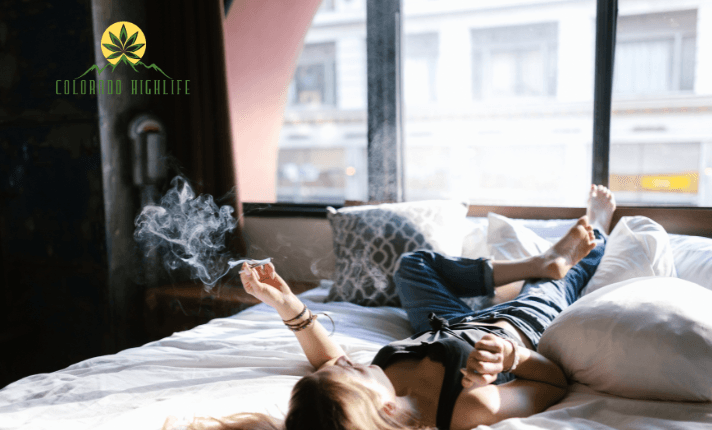 #5 Rent a Private House
Despite the fact that public consumption of weed is banned, some hotels and restaurants don't allow marijuana consumption, even on balconies. If you don't find a weed-friendly Airbnb, go for a private setting. Luckily, some states have gorgeous vacation homes.
You can get into one of those, especially one with a private outdoor space where you can easily smoke weed. You can create a whole new vibe with some music, snacks, drinks, lighting, and pot.
#6 Discover Best Dispensaries & Cannabis Events
As soon as you get to your dream destination, discover the best dispensaries in the location. It might be possible that you didn't pack any pot product with you and were planning to buy weed once you get to the location.
So, look for a licensed shop from where you can get a variety of cannabis products. Besides, many cities arrange local cannabis events, which you should definitely explore. You will get to learn a lot about the cannabis industry and will get the chance to meet like-minded individuals who might become your new friends.

#7 Plan Activities That You Can Enjoy
A trip is always incomplete without planned activities. On your cannabis trip, make sure you research the location well and look for all those destinations that offer cannabis-friendly activities, such as cannabis tours.
Or you can also go to nature parks and hikes if you're a nature lover and an adventurer. Besides, spending time in nature leaves you with an unforgettable experience when you're high.
#8 Drive Home Sober
This is very important. Once you're done with the trip and are all set to go back home, make sure your group is sober while driving. Not only is it crucial for the driver's safety, but it also keeps you at bay from the cops who are on the lookout for MJ tourists returning from their border-town adventures.
If you're sober, chances are the cops won't bother you much. To ensure you look clean and sober, spritz your hair and clothes with an air freshener to get rid of the smell, just to be extra sure. Also, if you're a group of friends, make sure to take turns while driving so that everybody gets the time to relax.
Here Are Other Important Things You Should Keep in Mind
Apart from the above-mentioned things, here are some other important things you need to keep in mind while planning your weedcation:
Don't travel across borders with cannabis products ( except CBD, and that too, after reading the CBD travel laws of the other state). And since cannabis is illegal at the federal level, you can't carry it on airplanes.
If you think you're high and are not in the right state of mind to drive, call a rideshare service or take any public transportation to go home.
Lastly, stay updated on international laws and regulations if you're traveling overseas.
Final Thoughts
Going on a weedcation can actually be so much fun, as getting high solves almost anything and everything. Besides, tourists don't have to worry about getting themselves in trouble since many states have legalized recreational marijuana.
Pick one of the states and plan everything accordingly. Just be sure that you're not violating any rules while being on a cannabis vacation. Besides, have a friend who has already taken weed-friendly vacations, as they will have a better idea of the entire weed thing.