60 Day Review of the UTILLIAN 5 Vaporizer

This is my review of the UTILLIAN 5 (v3) Vaporizer. Now I've been using the UTILLIAN 5 vaporizer for a while, just over 2 months, and I have a lot to say about this concentrate vaporizer pen. So this vape unit comes with two atomizers, one is a durable 'jumbo' single coil and the other a titanium triple coil.
This battery has a 510 thread which gives you a ton of options with 510 cartridges. Plus, the accessories that come with it are top-notch. Let me go over some of the specs and features of this vaporizer, then we will go over the good and the bad of the UTILLIAN 5 Vaporizer.
First off the UTILLIAN 5 (v3) and the glass bubbler were provided to me for free from T-Vape. They asked me to do an honest review of this wax vaporizer, and that's what your getting here. I am not receiving any commissions from any sales, due to this article. So thats my disclaimer.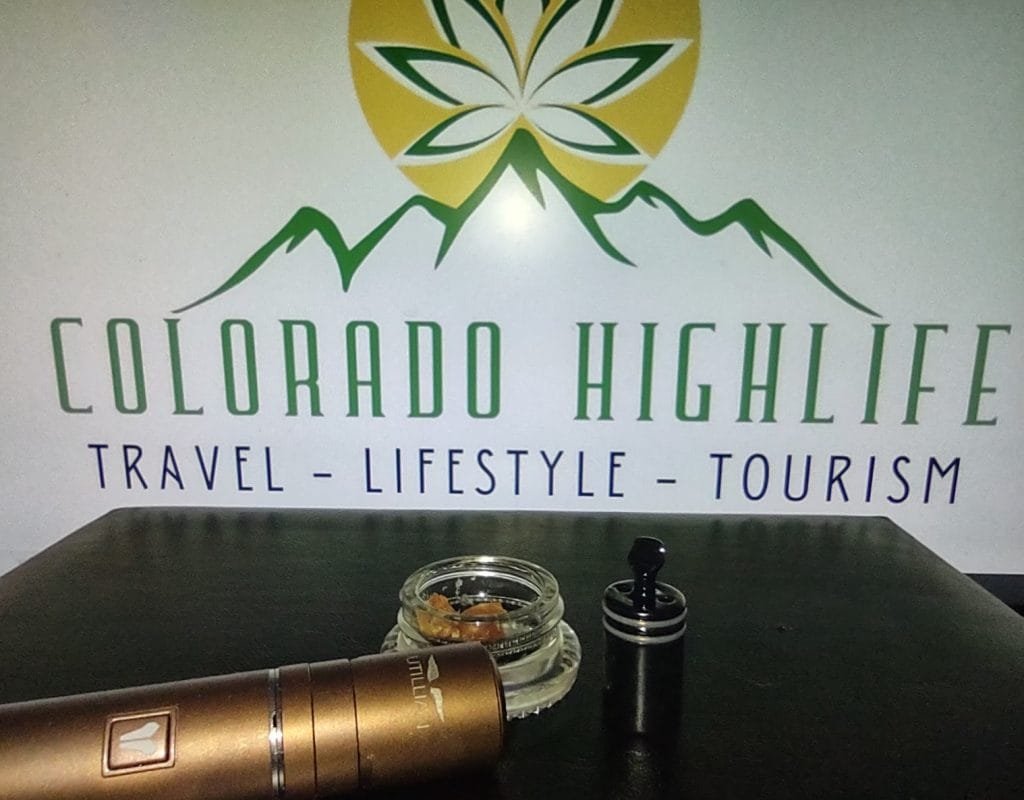 Features of the UTILLIAN 5 Vaporizer
4 Voltage Presets – The Utillian 5 provides great heat control by offering 4 voltage settings. This is perfect for those who want to be able to customize their experience and get exactly what they need out of every session. The cart manufacturer I used recommended a temperature that was at the high setting of this pen. So I kept it at 4 with the carts.
The 510 thread cartridges worked great with the battery, screwing them in and out was easy with no issues. For wax I liked to have it at 2-3, and used mostly the single jumbo coil as it gave a good cloud to taste ratio.
---
Great Battery Life – This wax pen has a 1500mAh battery built into it. A lot of other manufacturers will use around 650mAh to 750mAh. So this is a big battery for some, and will last a good while for some, but I am not some.
I can't say for exact, but I could empty a 1gm 510 cart and be into the next before recharge and that is on the highest setting. So lets say 13 hours, give or take. But the carts seem to be more power efficient, compared to the coils.
With concentrates that was a bit less. I got about 8-10 hours of use hitting it regularly while working on the websites and writing articles. Heat settings at two and sometimes three for the concentrates. But that of course will vary with user. It charged to full power in just over 2 hours, with the included cable on my charger.
---
2 Coils – This unit comes ready with 2 coils. One triple titanium and a huge twisted kanthalor, both worked great for what it was tested on. I received some huge and tasty clouds from the kanthlor and the trips did great for low setting flavor sessions. But, you can crank them up as well. Low settings brought out the tasty terpenes of the wax better with the triple. Note : Concentrates tested on the coils were a few grams of sugar wax and a few grams of shatter over the testing period.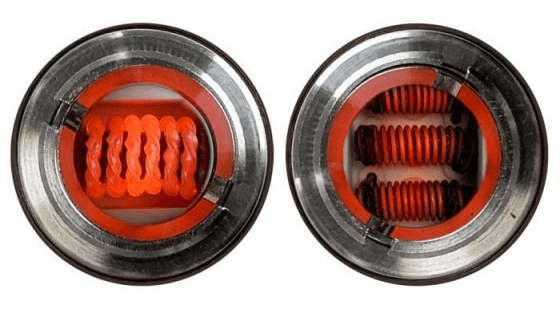 ---
Mouthpiece – Now let's talk about the mouthpiece. From UTILLIAN's website it states " Improved Loading & Mouthpiece -The newly redesigned v3 mouthpiece houses a built-in splash guard and loading tool, providing everything you need to set up your wax session on the go."
Ok, now this thing is pretty cool and has some advantages and disadvantages. This mouthpiece has a dabber integrated into it. This little thing works great for getting your product into the perfect place. For the triple coil it gets it in the middle of the three and with the single coil it sets on one side if it. That makes for efficient product usage which is good.
BUT!!! Sorry there is a but. Let's go over it. The good part of this mouthpieces' design is also its flaw. The design of the mouthpiece lends it to sit next to, and right above the coils transfering the heat up the dabber shaft to your lips. On my sessions, hitting the unit with about 4 long draws, caused the mouthpiece to get too hot to use for my lips. Maybe something is a bit off or I am doing something wrong, but I don't think so.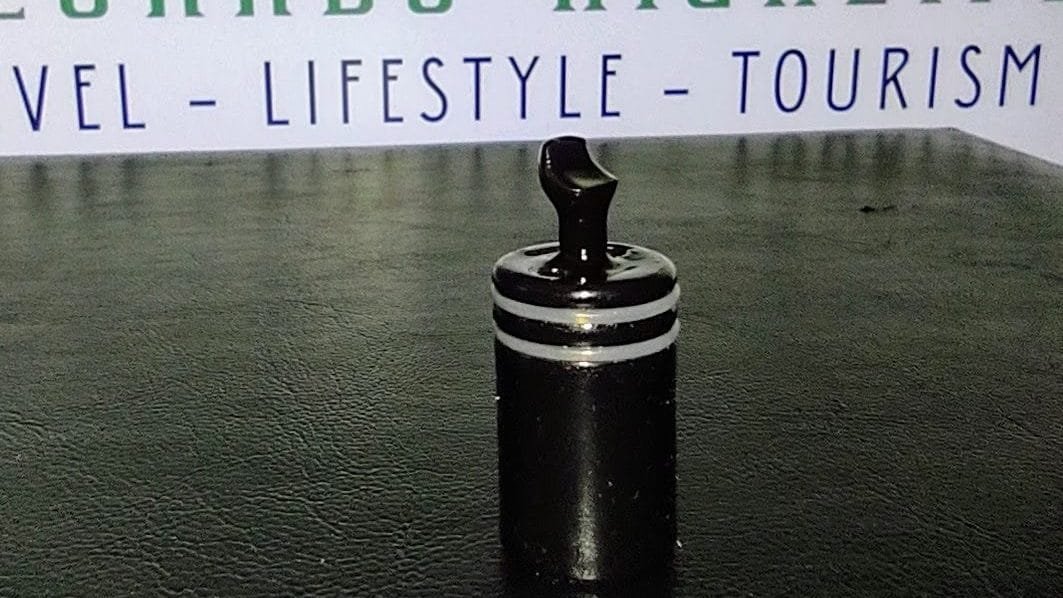 Now if your a "normal" single user, and use potent concentrates, this should not be an issue. Due to most people will only take a hit or two of wax, thus keeping it cool. Now if it is placed in a puff, puff, pass session with a friend, this will get hot fast. Now, I know a lot of others do as well, but this got there in 4 to 5 draws so I have to tell you.
Also in single coil mode you don't want to twist the mouthpiece. The dabber sits right next to it. I felt afraid it was going to break the dabber off if I did twist it. Not sure if it would break, or if the coil would, but I have to bring it up. You can also adjust the air flow into the unit with a spin of the slider.
PRO TIP * – When loading into the single coil, look into the coil to be sure your placing the dabber on either side of the coil. No twisting!
---
Glass Bubbler– This is an accessory for the UTILLIAN 5 Vaporizer and some of its sisters in the the UTILLIAN line up. This is a must needed attachment on this vape unit, for those long sessions and for sharing due to the design of the v3 mouthpiece.

The glass bubbler mouthpiece worked great for me. Filling it about 1/4 full with cold water, it did its job perfectly. Cool hits that are hard to judge sometimes..lol. This is an added expense for $39.99 U.S. at the time of writing. It seems to be spill proof as it should be, I slowly tipped it upside down and verticaly sideways with no spillage. Another plus.
Now for some an additional $40 bucks for a glass bubbler is a hard sell, but for the low price of the vape unit itself, it makes sense to add the additional accessory. The issues I had with the glass bubbler is filling it with water, due to it emptying every time I placed right side up. Not sure why, but after blowing through both ends it worked fine. It also is a bit scary to remove when needed to reload. But after a few times it was easy to do. Learning curves ya' know. 🙂
That's where we get into the 'cost to benefits' of the UTILLIAN 5 Vaporizer.
Value of the UTILLIAN 5 Vaporizer
So as of the writing of this article, the manufacturers website lists the UTILLIAN 5 Vaporizer (v3) at only, (and yes I say only) $89.99. Now, add on the $39.99 glass mouthpiece and we are sitting at $129.98 for both. This to me, is a very good value compared to other units in this price point and comparability of features.
A comparable Dr Dabber would be in the $130.00 and up range, and that is without a glass bubbler. And the UTILLIAN 5 also comes with a one year 'Hassle Free' warranty from the manufacture.
Over the last 60 days of reviewing the UTILLIAN 5, I have ridden this unit hard and put it away hot. A relentless cloud making unit, the UTILLIAN 5 has taken the abuse, stepped up, and performed very well. With the glass bubbler this is an excellent concentrate pen.
In our opinion, "The UTILLIAN 5 Vaporizer v3, is a excellent value for the durability and features you get. With the add-on glass bubbler, it is a no brainer."– Colorado Highlife
There, you can quote us. LOL.
Wrapping it up…
All in all, the UTILLIAN 5 Vaporizer (v3) is a great unit for dabbers and concentrate lovers. The versatility of being 510 thread ready, 2 included coils, 4 useable heat settings and the glass bubbler make this vaporizer a great buy for anyone. It feels heavy, durable and looks great after 60 days of cartridges, concentrates, falling on floors and regular daily usage.
Are UTILLIANS Good?
Yes absolutely. I will and do recommend this handheld vaporizer to any concentrate enthusiast. – Tim Vee : Owner Colorado Highlife
---
Good
Durable, heavy feel.
Two included coils
4 useable heat settings
510 thread compatible
Glass bubbler add on
Very good battery life
Bad
Mouthpiece gets hot after medium usage. Buy the add on glass bubbler.
Technical Specs
Manufacturer – Utillian
Origins – China
Battery – 1500mAh
Included Coils – 1x Twisted Kanthal Coil, 1x Triple Titanium Coil
Temperature – 2.2V, 2.4V, 2.6V, 2.8V
Compatibility – Wax
Warranty – 1 Year Hassle-Free on the Battery
Materials – Stainless Steel, Kanthal, Titanium, Ceramic
Video of the UTILLIAN 5 (v3) & Glass Bubbler