So we always get asked what are the best dispensaries in Denver, Colorado? Now with so many to choose from that is a very hard answer to give. So we went and did some research on who was ranked the best from reviews online and pick these five recreational dispensaries. Now some of these places may have some of the best bongs for the money for sale as well.
The stipulations for this list were, they had to be above a 4.6 score, have at least 100 reviews and be located in and around Denver.
So with our bit of work done, here are 5 of the best recreational dispensaries in Denver, Colorado.
#1 - Lightshade – 6th Ave
This location of Lightshade has the top score by their customers reviews. With over 1500 reviews they have an average score of 4.9!!
That is an amazing feat due to the cannabis connoisseurs that proliferate Denver and can be very picky on what they buy and consume. They get a lot of their good reviews (about 40%) from the great customer service and friendly employees they have. The rest of the reviews praise them on the prices and quality of products they have.
Located on 6th Ave and Clarkson this store has an awesome selection of products for everyone. They are open from 8:00 am to 9:45 pm every day of the week. See what they have to offer by clicking this button.
See the Menu @ Lightshade 6th Ave
#2 - Higher Grade Recreational
This recreational dispensary is the next top location on our top 5 list. Higher Grade has a very high score of 4.9 with over 100 reviews so far. This store located in downtown Denver at 1269 Elati St, Denver, CO 80204 is a cannabis lovers dream. They are open everyday from 8:00am to 9:45 pm.
They get a lot of their high ranking reviews due to the awesome staff on hand that gives each customer a great experience and answers all of their questions. Some reviewers praised the bud tenders ability to recommend great products to them. The rest of the score comes from very high quality selection of flower and concentrates on hand.
Higher Grade has a great selection of cannabis products for everyone. To see the menu there click below.
See the Menu @ Higher Grade
#3 - The Lodge on High St
This great place is located in Denver's up and coming area the Rino district. They are located on 3944 N High St
Denver, CO 80205 and have an average score of 4.7 from over 800 reviews so far.
They get the bulk of the positive reviews from the deals they have there. You travelers can get a decent quality ounce of flower for $90.00 plus tax. That is an awesome deal. They also get a lot of good reviews for their staff and customer service as well.  This store is open everyday  from 10:00 am to 9:45 pm.
Located up in north Denver, there is a lot of great places to see, eat and party at in this area.  So be sure to stop in this location. You can find their menu by clicking the button below.
See the Menu @ The Lodge on High St.
#4 - Lova on Colfax Ave
This is a location in the massive chain of stores that Lova owns and operates in Colorado. This location has an overall review score of 4.7 from over 160 reviews. This place gets a lot of great reviews from their customer service, quality products and easy to get to location.
They are located at  3121 E Colfax Ave #1709, Denver.  Colfax is one of the easiest streets to find in Denver.
They are open from 9:00am to 9:45pm 7 days a week. So if your staying at the Adagio Bed and Breakfast or The Holiday Chalet B&B ... this store is within walking distance for you.
To check out the menu click the button below.
#5 - RiverRock South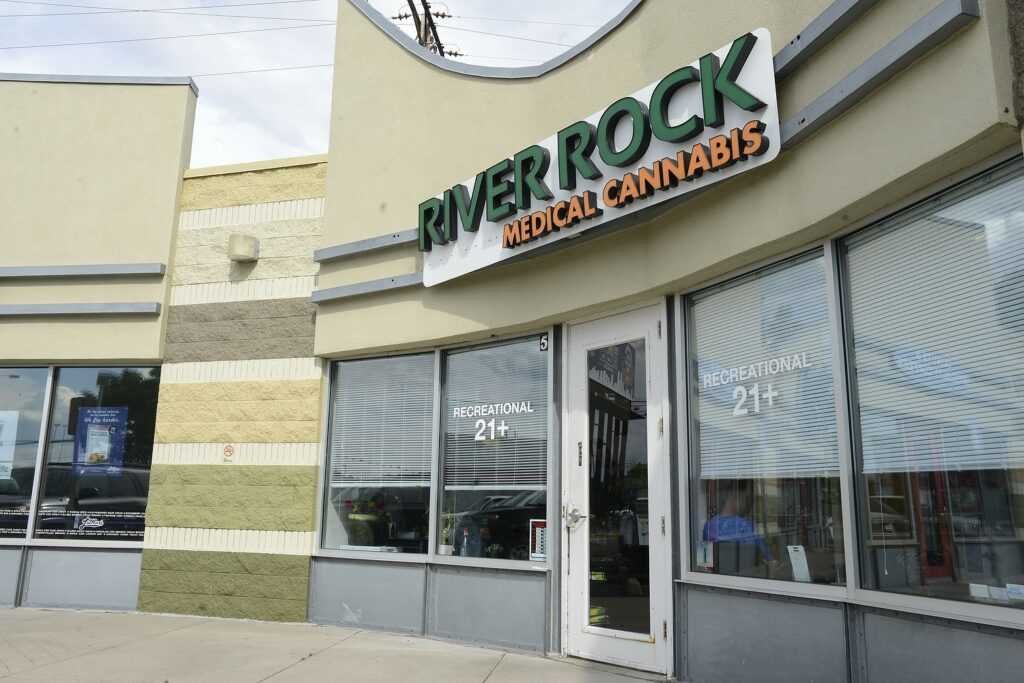 This recreational dispensary rounds out our list of the top 5 in Denver. RiverRock is also a chain of stores in Denver and this location stands out to be the best from the reviews we see online. With a score of 4.7 from over 200 reviews this store is one you should visit.
Most of the positive reviews come from the customer service that the staff there gives to every customer that walks in. They also get a ton of good reviews for the selection of cannabis products, quality of those products and the easy to fond location there. Located at 990 6th Ave, Denver, CO 80204 this is an easy place to get to.
So be sure to stop in when you in town on your vacation and get some great flower.
See the Menu @ RiverRock South
So that concludes our top 5 recreational dispensaries in Denver. This is not the only great places to see and this article will be subject to a lot of scrutiny from the local cannabis community, but we feel this is a good list and some great places to get cannabis and experience the Colorado difference when it comes to buying cannabis here.
Have a great day and stay safe on your travels to Colorado.