Find the latest and best in Electric Dab rigs.
Looking to elevate your dabbing experience into the cosmos? Whether you're a seasoned dabbing guru or just stepping into the magical world of concentrates, we've got the rundown on the top 5 best electric dab rigs you simply have to check out. With a fusion of modern technology and stoner-chic flair, these babies will blow your mind!
Greetings from us here Colorado Highlife, where the altitude isn't the only thing that's high! We're no newbies when it comes to dabbing; with over 12 years of experience, we've been riding the waves of innovation and flavor like seasoned surfers.
We know a thing or two about what makes an electric dab rig outstanding, and that's why we've scoured the web, tested the tech, and inhaled the inspiration to bring you the best electric dab rigs to showcase. Every rig in this list has been handpicked by our expert team, who live and breathe dabbing culture. We also list a pro and a con of each unit.
We're committed to keeping this list fresh. That's right; we'll be updating this article each year to reflect the newest and most mind-blowing rigs available. So buckle up, because here's the inside scoop on the Top 5 Best Electric Dab Rigs that are changing the game.
1. Dr. Dabber SWITCH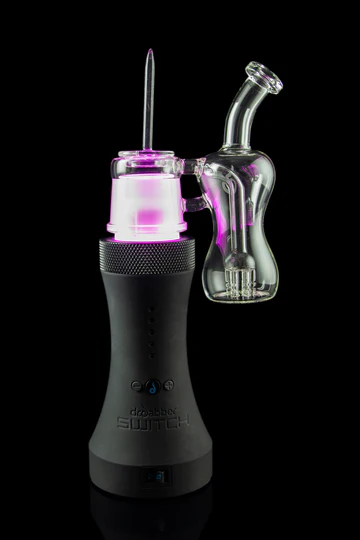 Forget about mundane dab rigs that take a lot of effort to use; the Dr. Dabber SWITCH is where the real magic lies. This beast, probably more powerful than space crafts, is an epic fusion of ergonomic design, induction heat technology, and drop-dead gorgeous looks.
Offering 25 calibrated heat settings and a self-cleaning mode, the SWITCH promises a tailored experience with untainted flavor profiles. With an impressive 100 to 150 uses on a full charge, it stands as a monument to what high-end vaporization technology can offer.This is our top pick for the best electric dab rig for 2023.
Pros – Heats fast and has tons of settings. Long battery life. Smooth hitting
Cons – Loose fitting, glass carb cap breaks easily.
2. Puffco Peak Pro Smart E-Rig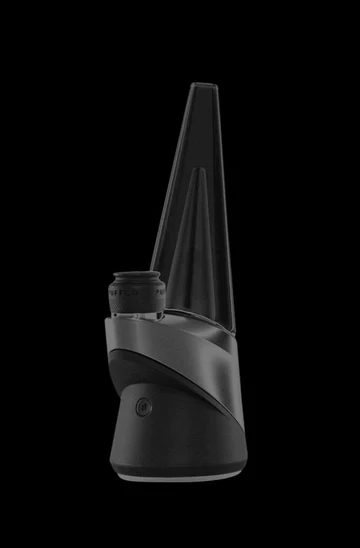 Ever met a rig that's not just electric but smart? Enter the Puffco Peak Pro. This bad boy is as elegant as it is efficient, boasting a 40% larger chamber, Oculus carb cap, and Bluetooth connectivity.
Heating up in under 30 seconds and offering around 30 sessions on a single charge, this masterpiece is designed for serious concentrate lovers. With real-time temperature changing and wireless charging, it's not just a smart rig; it's a genius, ready to transform your dabbing sessions into legendary events.
Pros – Hard cover carrying case. Smart app controlled. Smooth hitting
Cons – Low temp is not low enough. Can clog with heavy use.
---
3. Dr. Dabber Boost EVO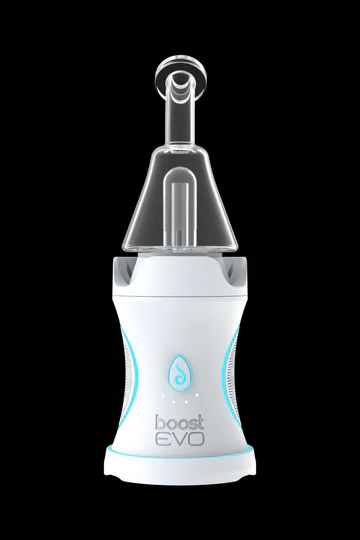 Tech geeks and dab connoisseurs, meet your match: the Dr. Dabber Boost EVO. With built-in temperature control, 6 temp settings ranging from 500°F to 700°F, and a futuristic design, it's pure bliss for those who love to experiment.
Featuring a magnetic quartz atomizer, all-glass vapor pathway, and incredible RGB ambient lighting, this vaporizer offers a pure, customized experience. Available in chic Moon White and Eclipse Black, the Boost EVO guarantees an otherworldly dabbing experience.
Pros – 6 temp settings from 400 to 700 degrees. Long battery life. Smooth hitting.
Cons – No cleaning supplies. Very minimal instructions on how to use it.
---
4. The Pharaoh – Electronic Dab Rig by EO Vapes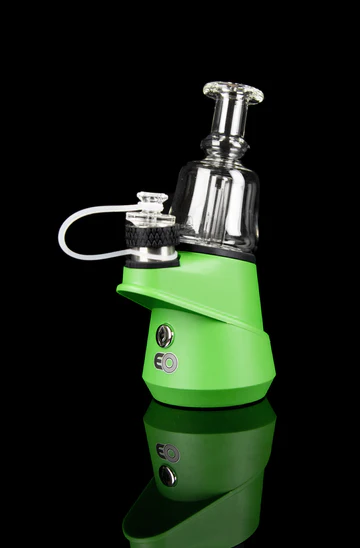 Calling all modern-day Pharaohs! Get ready to channel your inner royalty with the Pharaoh Electronic Dab Rig. Light on the wallet but heavy on performance, this rig is a dream for both newbies and heavy-hitters.
It sports a solid 2600mAh battery and a single-button operation, offering a flawless dabbing experience. No more torches; just load your concentrate, choose your heat setting, and dive into a flavor-packed journey. Available in suave Green and Black, this travel-friendly rig offers smooth and powerful hits that are guaranteed to rock your world.
Pros – Single button use. Carrying case. Made for novice dabbers.
Cons – Does not get hot enough for some users. Made for novice users.
---
5. RöK Electric Dab Rig – Limited Edition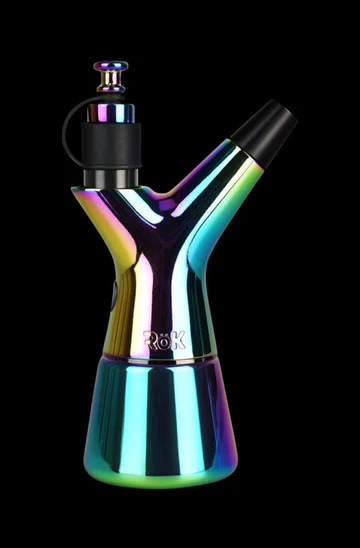 Unleash the rainbow with the Pulsar RoK Electric Dab Rig. This limited edition beauty includes chromatic accessories and offers the ability to switch seamlessly between dabs and flower.
With larger internal air paths for maximum cloud production and three voltage settings, you'll be dialing into flavorful nirvana. A true work of art, this rig ensures a sublime experience that transcends ordinary dabbing.
Pros – Large internal paths for air flow. All metal body. Huge hits.
Cons – No case.
Clearing the chamber….
So there you have it, the Top 5 Best Electric Dab Rigs brought to you by the seasoned dabbing enthusiasts at Colorado Highlife. With portability, innovation, and style, these rigs aren't just tools; they're companions on your endless journey through the galaxy of flavors and sensations. Grab one, and let the cosmic adventure begin! If you want to know more about E-Rigs read on.
---
Why buy a electric dab rig
An electric dab rig, often referred to simply as an e-rig, is a revolutionary device designed to take the dabbing experience to new heights. Unlike traditional methods, an electric dab rig doesn't require a butane torch; instead, it relies on a battery-operated heating element to vaporize concentrates.
Using an e-rig is as simple as charging the device, selecting your desired temperature, and placing your concentrate in the heating chamber. The result is a terpene-rich, flavorful vapor that's both smooth and consistent. The popularity of electric dab rigs lies in their convenience, precision, and portability.
They offer a modern twist to dabbing, providing a more controlled and efficient way to enjoy concentrates without the fuss and hazard of an open flame. Whether you're a seasoned dabber or just starting out, electric dab rigs have revolutionized the way we enjoy the essence of our favorite extracts.