By now, you've probably heard that Colorado legalized recreational marijuana in 2012. What you may not know is that the state has seen a boom in cannabis tourism since then. And Breckenridge, Colorado is no exception.
A little about Breckenridge.
If you're planning a trip to Breckenridge and want to experience the town's cannabis culture, here's a handy Breckenridge cannabis tourism guide to help you make the most of your trip. Breckenridge is fairly condensed into a main boulevard and a few side streets making it an easy place to shop, dine and sight see. Hotels and ski resorts circle the town as the mountains do.
The center of Breck is Main Street. Here you will find most of the places to shop and eat at. Bike rentals, ski rentals, clothing and curio shops are all lined up for an easy window shopping experience. Breckenridge is also know for its beer and the many small breweries there. So if you also like some stout IPA's then you will find your happy place here.
You can also trek the River Walk, this takes you on a short walk near the rivers edge having places for you to stop, soak your toes, take some photos, and sit to enjoy the views of the surrounding mountains.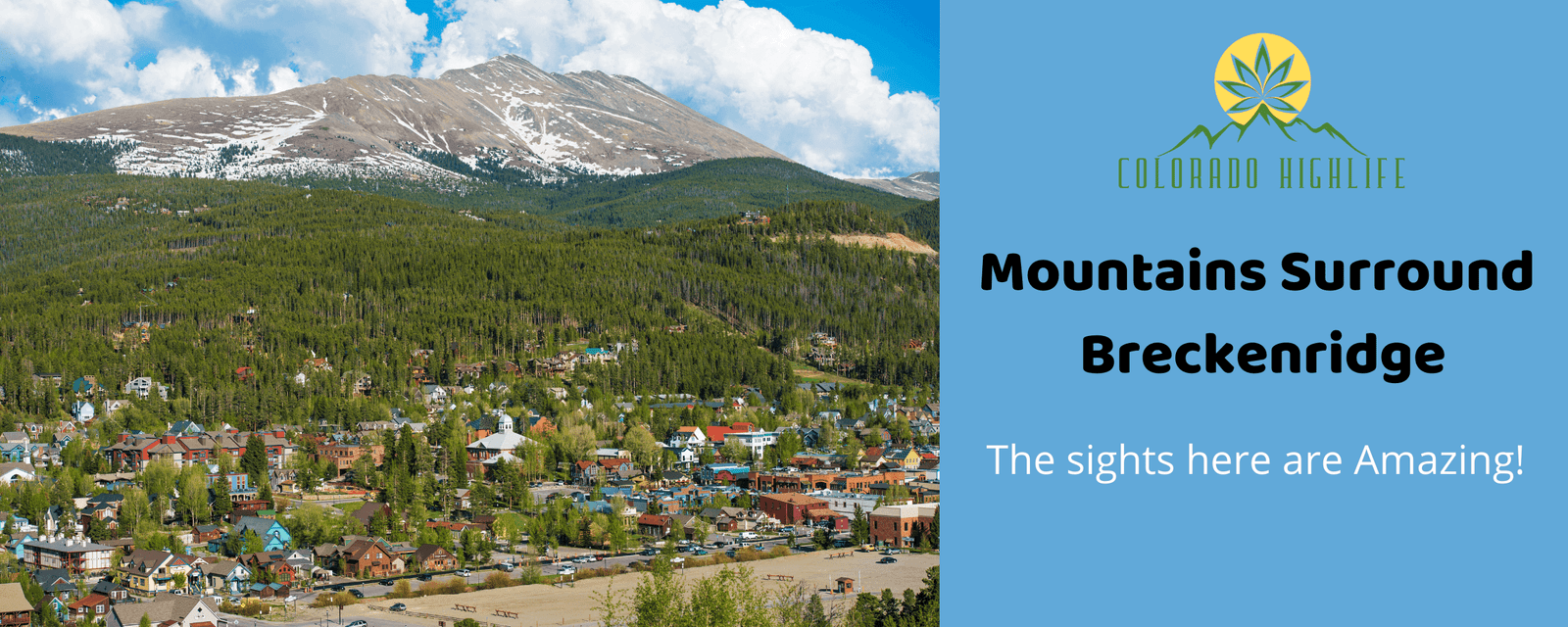 Ollie's Pub and Grub is a popular place to eat, it is floating in the lake that the river walk goes by, and is set upon a dredger of all things. You can pay .25 cents and feed the fish there as well. Another favorite to eat at is The Canteen, this place is on North Main Street and has some great food and a huge selection of brews. A must visit is the Mountain Top Cookie shop, this place always has a line and is very popular with the locals.
Ridge Street and French Street are east by one and two blocks, and also have restaurants, shops and places to rent equipment as well. Parking in Breckenridge is fairly easy as most of the streets are on street parking with paid kiosks, you can also find plenty of lots too.
Breckenridge and Cannabis
First things first: before you light up, you'll need to purchase some weed. There are several dispensaries in Breckenridge, so take your pick. Some popular options include Green Dragon Recreational Weed Dispensary, Breckenridge Organic Therapy and The Dispensary.
At a Breckenridge recreational cannabis dispensary, you can find a variety of products, including cannabis flower, edibles, concentrates, and topicals. You can also find a variety of CBD products. All of these products are regulated and tested through Colorado's strict cannabis regulations. The variety of products are designed to provide you with a unique cannabis experience.
Whether you're looking for something to relax you or something to give you a boost of energy, you can find it at a one of the local recreational cannabis dispensaries. It is of course illegal to consume in public here, but we have seen people buying disposable cannabis oil vape pens to puff on while walking the streets. Just be mindful and discreet if you choose to do that.
Once you have your stash, it's time to start exploring. For winter fun Breckenridge is home to some of the best ski slopes in the country, so be sure to hit the slopes during your visit. And when you need a break from skiing, there are plenty of other activities to keep you busy, like snowshoeing, dog sledding, and ice skating. There are a ton of ski in condos and vacation rentals that you will be able to consume at.
If your there in the warmer months then Breckenridge is a mecca for outdoor enthusiasts and there are plenty of activities to keep visitors busy during the summer months. Hiking, mountain biking, fishing, golfing, and ziplining are just a few of the popular activities in the area. The town also has a lively arts and culture scene with art galleries, live music, and festivals happening throughout the summer. And of course, no trip to Breckenridge would be complete without taking a ride on the world-famous Alpine Slide.
Cannabis Friendly Breckenridge Lodging
We say that most every place here is cannabis friendly. If you purchase disposable vape pens, you can consume pretty much anywhere as long as you stay outside. Smoking a joint is a bit more difficult but can be done. As long as your outside, and the property is not "smoke free", then you will be able to consume cannabis without issues. Just be sure to air out before you go back in so you don't incur any fines for smells. You can find some vetted 420 friendly Breckenridge lodging here on our site.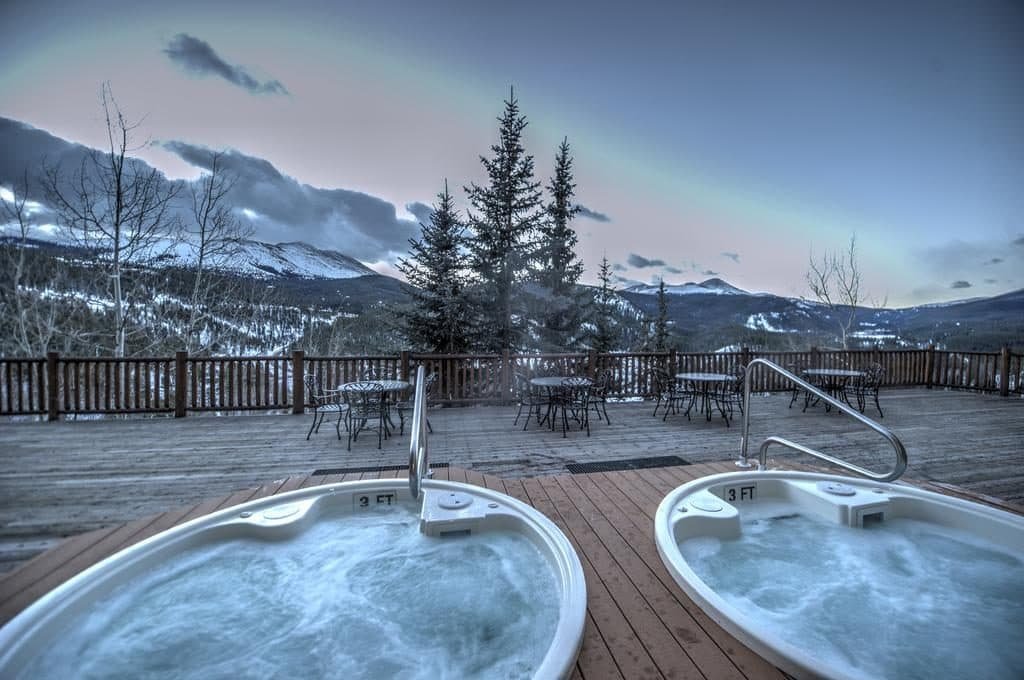 Nightlife in Breck
Breckenridge is home to some of the best nightlife in Colorado. From world-class bars and clubs to intimate lounges and live music venues, there's something for everyone in Breckenridge. Whether you're looking to dance the night away or relax with a drink in hand, you'll find plenty of options to choose from. A favorite is Cecilia's Nightclub. Here you will find multiple bars, dance club and some of the best drinks in town. People love the staff and strong drinks here as well as the atmosphere. Burke and Riley's Irish Pub is another favorite. Come in enjoy the Irish pub experience singing and dancing the night through.
The Ski Resorts
Breckenridge is home to four world-class ski resorts, making it the perfect destination for a ski vacation. With so many options for skiing and snowboarding, Breckenridge has something for everyone. Whether you're looking for beginner-friendly terrain or expert-level challenges, you'll find it here. Now the ski resorts here are not cannabis friendly. Some down right despise it, and will kick you to the curb if you are caught indulging on property. So be careful if you decide to stay at one of the ski resorts there. Here at Colorado Highlife, we ran afoul of one of the resorts for just using their name in an article, so now we don't say the names ever, just to spite them.
So….
Breckenridge is the number one place we recommend the most for cannabis tourists coming to Colorado. It has everything you want and need. With spectacular views, tons of activities, cannabis friendly lodging and cannabis dispensaries a cannabis tourist will find a happy place here. Unlike the other mountain cities like Aspen, that have nothing, or not much for the cannabis traveler. Have fun when your here and enjoy all of what Colorado has to offer you.