Utillian 8 E Rig Review – I Like it!!!!
Yo! I recently snagged the Utillian 8 E Rig, it was sent to me by the great team at T-Vape and let me tell ya, it's taken my concentrate game to the next level. I'm gonna break it all down for you so you can see why it's a must-have for 'some' concentrate enthusiasts.
The Utillian 8 E Rig truly impressed me with its performance and effectiveness. I had it for a month and used shatter and sugar wax. The sugar wax burned efficiently, providing not only potent and delicious hits but also producing those mouthwatering clouds that any concentrate aficionado would appreciate. A low setting of 2 was perfect for it. Tasty, tasty, tasty. The shatter took a bit higher setting but on 4 it will knock your ass down. The clouds filled my office like San Francisco bay fog.
The ease of use and reliable function of this e rig make it a fantastic choice for both seasoned dabbers and those new to the world of concentrates. I wholeheartedly recommend the Utillian 8 to any avid dabber seeking a device that delivers exceptional flavor, thick clouds, and an overall elevated experience. Trust me, once you give it a try, you'll wonder how you ever dabbed without it!
If your already sold, click the button below to get one for yourself.
---
Now, some the photos shown are stock images as I broke the glass bubbler before we could take photos. Damn.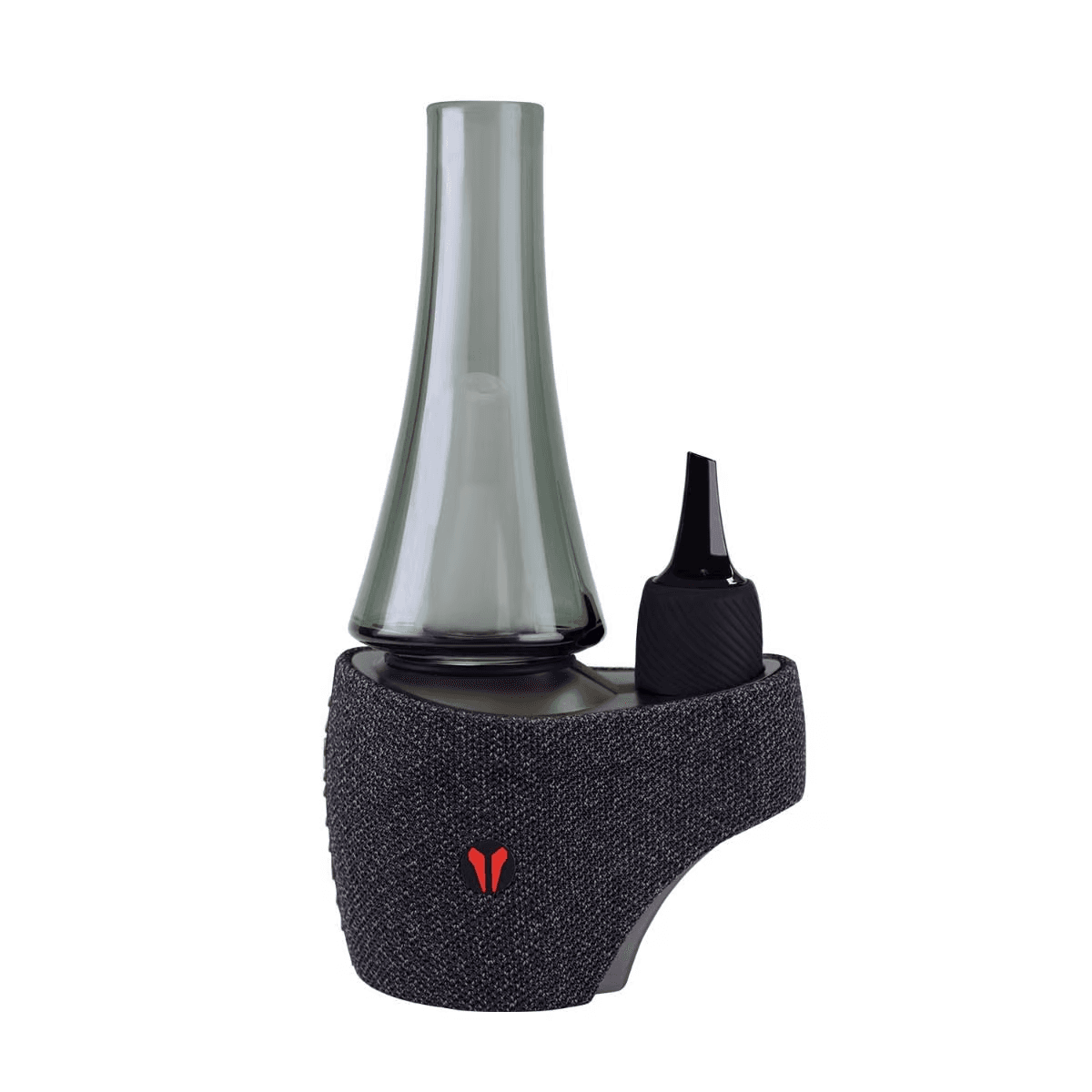 Getting Started with Your Utillian 8 E Rig
Battery and Sanitation Cycle – Do this first.
Make sure your battery is fully charged before your first use. A quick double-tap of the power button shows the battery level.
Don't forget to run a sanitation cycle by cranking up the device to the highest temperature setting for a full cycle. This step purges machine oils from manufacturing.
These steps are recommend by Utillian to do before use. I also washed the mouth piece in hot water, and then hit it with an alcohol bath and cold water rinse as well.
Mouthpiece and Loading Chamber – Unique design.
Fill the glass mouthpiece just above the two air holes. Might be a bit hard to see for some but I found it. The max filling level is about half the height of the central cone.
Align the mouthpiece with the base, making sure the hole at the bottom of the mouthpiece is positioned correctly towards the small slot on the inside wall of the base.
The bubbler of the Utillian 8 is very minimalistic and sleek in design with a subtle dark tint. Its slim profile not only adds to its modern look but also helps keep splash-back at bay.
Plus, the slight tint keeps the gunk out of sight, so you can go a few more rounds before needing to give it a clean. We know cleaning isn't always a priority, and with the Utillian 8, you'll have more time for chillin' and less time scrubbin'.
It's clear that the Utillian 8 was designed with user experience at its core. And that, my friends, is a game-changer.
Now, one thing that could be improved is the dabber. It was not the easiest to use to get the concentrate to stay on it as the shape lets the product slip off and the length of it, or the lack of; made it hard to get into some dab jars we have.
So I used a ceramic dab tool I had to load the Utillian 8. For me it made it a lot easier loading. Then I used the included dabber/carb cap to stir the bowl and it works great for that. The included red pearls make it easy to get the most out of a dab by spreading the product all around the bowl.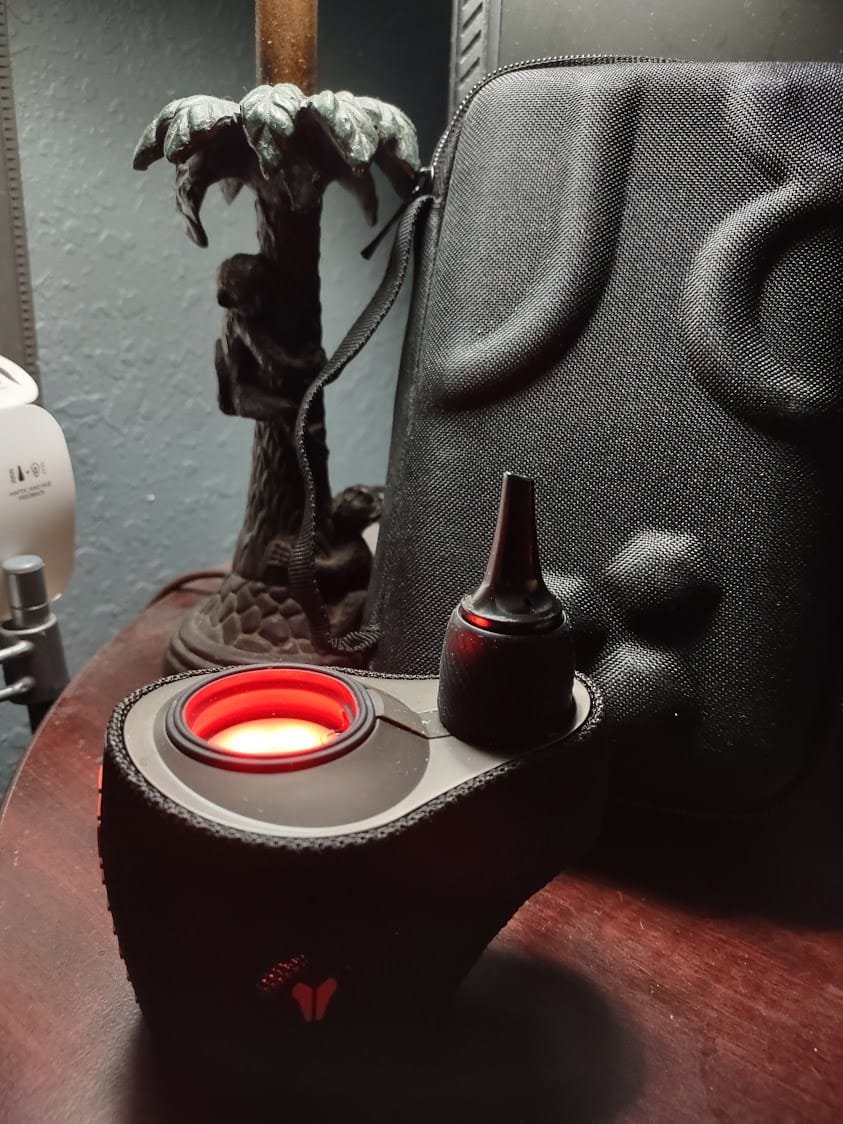 Temperature Flexibility
The Utillian 8 has four unique temp settings, ranging from 205 – 425° C (400- 800° F).
Temps 1 and 2 are perfect for flavor and active ingredient extraction, while temps 3 and 4 are all about big hits and cloud density.
Here's a list of ideal temperature settings for various concentrates when using the Utillian 8:
Low viscosity concentrates (e.g., sappy or runny extracts):

Lower temperature settings (320-370°F / 160-188°C)
Better for preserving terpene profiles and flavors

Medium viscosity concentrates (e.g., budder, crumble, sugar):

Mid-range temperature settings (370-420°F / 188-215°C)
Balanced vapor production, potency, and flavor preservation

High viscosity concentrates (e.g., shatter, pull-and-snap, hard wax):

Higher temperature settings (420-480°F / 215-249°C)
Provides potent and dense vapor, may sacrifice some flavor
Remember that these settings are just a general guideline, and individual preferences may vary. It's always best to start at a lower temperature and gradually increase until you find the perfect setting for your concentrate and personal preference.
Vapor Quality
Expect some dense clouds and super pure flavor, thanks to the ceramic and stainless steel BurstHit 3D Chamber. It can start to get the dark burn in after a few dabs, so be sure to keep it clean.
The included ruby pearls make even basic concentrates taste out-of-this-world, while reducing wax puddles. This also helps with efficient vaporization of your concentrates to get the most out of it.
The multi-function tool acts as a choke, dab tool, and carb cap, allowing users to fine-tune their session with ease.
Manufacturing Quality
The Utillian 8 has a sturdy aluminum body, housed in a fabric and plastic cover that's both innovative and customizable.
The BurstHit 3D Chamber, carb cap/wax tool, and bubbler are made with quality materials that offer durability and functionality. Just don't drop it on the floor like me. The unit is fine, the bubbler is not.
When it comes to the build and feel of the Utillian 8, I was thoroughly impressed. The device has a satisfying weight to it, which really speaks to its solid construction and high-quality materials. The ergonomic design makes it super comfortable to hold and easy to use, allowing for a seamless experience. It's clear that the Utillian put a lot of thought into crafting a unit that's not only a joy to use but also aesthetically pleasing.
I can honestly say, this is one of those devices that just feels right in your hand, and it's an absolute pleasure to use.
Battery Life and Portability
The 3150 mAh battery can last for several hours, depending on your frequency of use.
The USB-C port makes charging on-the-go super easy.
While not as portable as a wax pen, the Utillian 8's smaller size and carrying case make it a solid option for those looking for a more advanced concentrate vaping experience, that they can take with them easily. I would take this over any torch and dabber kit in a hard case. More compact and easier to use this Utillian 8.
Now, there's just one little drawback I came across with the Utillian 8: the battery life. I found that it didn't quite last as long as I would've liked. On a full charge, I was able to get around 10 to 13 hits in before needing to juice it up again. But, hey, I do tend to crank it up and ride those higher settings, so that might've had something to do with it. So, while it's not a total dealbreaker, it's definitely something to keep in mind if you're a heavy-hitting, high-temp enthusiast like me.
When I looked online, others seemed to get a lot more hours from them. So results will vary.
Hard Case
I really dig the hard case that comes with the Utillian 8. It's not just about keeping the unit safe and snug, but it's also super sturdy and perfect for those on-the-move dab sessions. And as you can see, I need to have my toys protected from my clumsiness.
The case has many slots for all the unit's accessories, making it an organizational persons dream. This little addition cranks up the value of the whole deal, making the Utillian 8 even more of a must-have for anyone on the hunt for a top-notch electric concentrate vaporizer kit.
Final Thoughts
In conclusion, the Utillian 8 E Rig is a very nice, dependable, device that can make your concentrate vaping sessions a lot better and easier. Its temperature flexibility, vapor quality, manufacturing quality, and portability make it a great investment for anyone ready to up their vaping game.
I love this and have already ordered a new bubbler. If you see me at an event I will probably have this with me so hit me up for a test run!!! Thanks to T-Vape for letting me test this amazing new rig out.
Tim Vee – CEO Colorado Highlife
Technical Specs
Manufacturer – Utillian
Battery – 3150mAh
Control – Single-Button
Heat time – 20 Seconds
Heating Style – Conduction
Temperature – 4 Different settings
Compatibility – Wax
Compatible with Utillian Bubblerno
Compatible with Zeus Icebornno
Warranty – 1 Year Hassle-Free Warranty
Materials – Black Zirconia Ceramic, Stainless Steel SS304, Silicon Rubber, Glass, Aluminum, Plastic, and Fabric