So when it comes to cannabis vacations and Colorado we know a thing or two. We have been all over the state and have seen the best and the worst places to visit. So here are the top 5 places in Colorado to take your 420 friendly vacation at. We may get a commission from sales off this page but it helps us to keep bringing you the best cannabis friendly travel information.
To find out more information on what we are covering in this article, just click on the highlighted text.
Top 5 cannabis friendly places to vacation at in Colorado.
#1- Denver – Denver is one of our top spots for quite a few reasons. First, there are so many recreational cannabis dispensaries that you will easily be able to find one close to your lodging. With around 300 or so recreational stores to buy some marijuana, you have a choice of quality and price second to none. You can find what recreational stores we consider the best here. Denver has thousands of various strains of cannabis, huge selections of edibles, multitude of hashes, oils, concentrates and more.
Now when it comes to lodging, Denver has the most places for the cannabis traveler to stay at then any other city in Colorado. From Bud and Breakfast, cannabis friendly Colorado cabins, modern weed friendly hotels to vacation homes, Denver has the most to choose from. You can find all of them here on our site, just click the 420 friendly lodging button above to find and book them and you can read about tips to finding cannabis friendly hotels too.
Denver also has a lot of great things to do for the tourist, from cannabis related and non cannabis related activities. Do you want to enjoy some weed infused food, there are a few places that have dinner parties for just this thing. Do you want to learn how to cook with marijuana and make cannabis recipes? Well there are about 5 different places that offer cannabis cooking classes in the city of Denver and is suburbs. Denver is also known for its Denver cannabis tours. Ride on a limo bus and partake in the bounty of strains there are here, smoke with some other stoners from around the world all while seeing the sites and a cannabis grow operation. the are a ton of things to do in Denver on the weekends too.
Non-cannabis related things to do are very plentiful as well, like if you want to take a sight seeing tour you can book a ride on Greyline Tours for about $30 per person and see the Rocky mountains in comfort. You can hire a guide to take you fishing or hiking up in the mountains also. A one of a kind zipline is within a 30 minute drive from the city and is a must do for the adventure seeking cannabis traveler. Smoke a bowl and take a ride!
There are also a lot of things in the city to do, like the abundance of museums, the Denver Botanic gardens are a crowd favorite all year long. And we cannot forget the 16th Street Mall with its many clubs, taverns, restaurants, shops and stores for you to enjoy and leave your money in. The Famous unsinkable Molly Brown (a Titanic survivor) has her house in Denver and is a museum in itself.
You can also take in a National hockey game, major league baseball game or even an NFL game at the many stadiums Denver has. If your into music Denver has the iconic Red Rocks Amphitheater that has bands playing almost every day through the warmer months of the year and has been a musicians favorite venue to perform at.
Denver also has some of the best places to eat. If you need to cure the munchies after you toke on some awesome strains, then this is the best place in Colorado to be. From the best in Ice cream joints like Little Mans Ice Cream, to a one of a kind hot dog and brats place, called Biker Jim's. Upscale places to dine at include restaurants like Elway's (owned by Bronco's player John Elway) that serves some awesome steaks and huge portions, to the very elegant places like The Capital Grille.
Denver has a ton of stuff to do for any traveler and can cater to the most discerning of cannabis tourist also. So be sure to make Denver a must stop on your vacation to Colorado. Find all of the Denver attractions here.
---
#2 – Colorado Springs – This city south of Denver is also a great place to vacation. Now it does not have as many recreational cannabis dispensaries like Denver but some great cannabis can be found in the bordering town of Manitou Springs. Colorado Springs best places to see are below.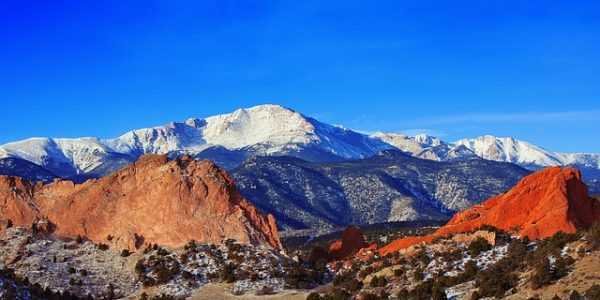 Colorado Springs is known for the majestic Pike's Peak with its 360 degree views of the Rocky Mountains and numerous lakes near it. You can drive, hike or take a train up to the top of the peak where you can have some food from the restaurant/gift shop atop of it. Garden of the Gods is also a travelers best place to visit and capture some of the best views in Colorado. Loaded with wildlife this city owned park has some beautiful views of the rock formations and a ton of hiking and equestrian trails for you to explore.
Colorado Springs is also one of the only cities in Colorado that have cannabis consumption clubs for the cannabis tourist, where you can smoke your weed with like minded people from town and around the globe. Studio A64 is one of these such places you can do this at and is located right downtown.
Colorado Springs also has a few great museums to visit so you can learn about the history of how the city was started and also a Money museum if your int that sort of thing.
If your into golfing this city has the world famous course at the Broadmoor Hotel and hosts the PGA tour as well as other tours. The golf course is known for having Elk, deer and bears on it when your playing, so keep an eye out for wildlife. This hotel is also one of Colorado's finest places to stay at with numerous places to eat and shop in it. Also as a bonus the Colorado Springs Automotive Museum right across the street from it, featuring some vintage rides, motorcycles and a nice display of hill climb cars too.
The good thing about Colorado Springs is the proximity it has the the mountain range as compared to Denver. Here in Colorado Springs you can be lost on a trail in about an hour as compared to a 3 hour trek from Denver. This is what makes this great city occupy our #2 spot for the visiting cannabis tourist. Find all of the best things to do in Colorado Springs here.
---
#3 – Breckenridge – The awe inspiring town of Breckenridge is our number 3 favorite for a lot of reasons, so lets go over them.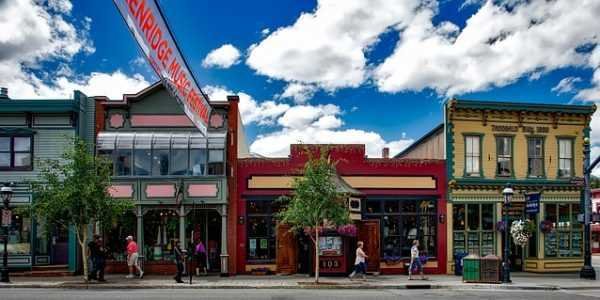 Location…. the location of this town is great. Very easy to find and get to from Denver, this town has a lot to offer. Snuggled in the saddle of a few peaks, this ski town has some of the best 360 degree views, all year round. In the spring and summer the greenscapes of the mountains will make you want to buy a house and move there. The fall color changes are made for postcards and what makes Colorado a must see state in the fall months.
During the winter Breckenridge is one of our top 3 winter vacation spots as it has all of the snow sports and activities you would want to do, and are within a 5 to 10 minute drive. Snowboard, ski, snowmobiles, ice fishing and snowshoeing are all fun to do and very easily accessible from this town.
Finding some cannabis is also and easy thing to do in this town. Breck has a few recreational dispensaries catering to your preferences of consumption, from flower, oils, concentrates and edibles. There are also a few hotels and vacation homes that are cannabis friendly places in Breckenridge to stay at, so be sure to visit our 420 friendly lodging page to find them.
Another reason we love this town is all of the places to see, eat, shop, and see some entertainment at. Breckenridge has an abundance of restaurants, bars, boutique stores and the typical candy and t-shirt shops to explore. You can pick up some great souvenirs and some fashionable clothing in this awesome mountain town.
One of the main reasons we love this town is it caters to all walks of life and income levels. You don't have to be a millionaire to stay and enjoy this town for the weekend. On a small budget you can have a ton of fun (there are a lot of free things to do) and enjoy all it has to offer. So this makes the town of Breckenridge take our number 3 spot. Find all of the things to do in Breckenridge here.
---
#4 – Glenwood Springs – This is a great little mountain town up in the Rocky Mountain Range and has a lot to offer in such a small package. This town is know for its caverns, natural springs and amusement park.
You can find three recreational cannabis stores there so some supplies are not far away. They offer the usual things like flower, edibles, concentrates and CBD products.
Now the first thing cool about this town in the hotels and attractions that have natural hot springs in them. Glenwood Springs gets its name from this awesome feature of the town. Founded on these "hot spots" the town has grown to what it is today, a small but very well equipped place for the cannabis traveler.
You can partake getting into a hot spring at one of the 3 places to do this. The natural waters are said to have some healing powers to those who take a dip in them. Glenwood Hot Spring Resort is the largest and most known place to go to, the others are Iron Mountain Springs and Yampah Spa and Vapor Caves. Our favorite is the caves due to the way your immersed into them and it is not as crowded as the others. But all three offer some great relaxing places to sit and soak up the Colorado offerings.
Another great attraction here is Glenwood Caverns Amusement Park. This amazing place is perched high atop the peak overlooking Glenwood Springs. We have been here a few times and it is always a trip we look forward to.
Featuring an Alpine coaster that is a nice long and fast ride down the mountain, the Canyon Swing is another heart pounding ride that scares the life out of me every time I ride, it swings you out over the canyon at about 1300 feet above the canyon floor. See the video below, it is scary!!! They also have the world famous cavern tour where you can go inside an ever growing cave system deep into the mountain side seeing some awe inspiring formation of stalactites and stalagmites. This park offers a lot to do for everyone in your party.
There are a few great hotels there as well, we prefer the Hampton Inn at Glenwood Springs for a few reasons. Its proximity to the gondola that takes you up to the park, it also has a indoor water park for the kids and it has a Free full breakfast buffet which a lot of the others don't offer.
If your wanting to stay at one of the hot springs then we recommend staying at Glenwood Hot Springs Resort.
For those who like to explore the surround areas of where your at, Gleenwood Springs will not disappoint. The best place to go see here is Hanging Lake which is nearby. this lake is one of the prettiest places in Colorado to see and will make you think your in paradise. Due to the bad seeds leaving trash and breaking the No swimming rule you now need to get a day permit to visit it, but believe us… it is worth it.
Glenwood Springs also has a ton of other stuff to do like 4×4 tours, Segway tours, hiking and biking trials, some great shopping and restaurants too. But be sure to have your own car as the town is spread out and walking it is not recommended. You can find all of the things to do in Glenwood Springs here.
---
#5 – Estes Park – Rounding off the list is the famous town of Estes Park. This mountain town has been a travelers favorite for many years. It has some great history to it and is a gateway the the Rocky Mountain National Park system. You also have a few great choices of recreational dispensaries in Estes Park to stock your supplies up.
Some of the great features of this town are first the wildlife. You can normally, on a regular basis, see Elk roaming throughout the city. But don't get to close to them as they can be a bit dangerous to encounter. But this makes this visit a must do, so you can capture some great photos of the huge beasts near the lake.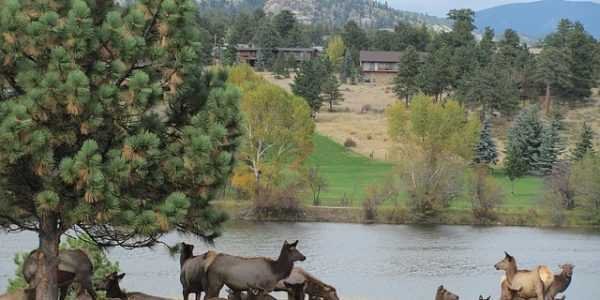 You can also walk, bike, ride a horse around Estes Lake as well enjoying the scenery of the mountains and huge peaks surrounding the town. We prefer the 4 person covered bike as we can place the kids up front and peddle our way around the lake at a slow pace, enjoying the views.
If you have kids then Fun City is another place you have to visit as there are a ton of great rides to do there from bumper boats to go-carts, this is a place we always hit for a few hours.
One of our favorite things to do is walk the town as it is a single strip and has a ton of shops, restaurants and boutique shops to visit. We also love to go to the back into the Riverwalk and take some great photos of us with all of the cool Instagram ready places for pics.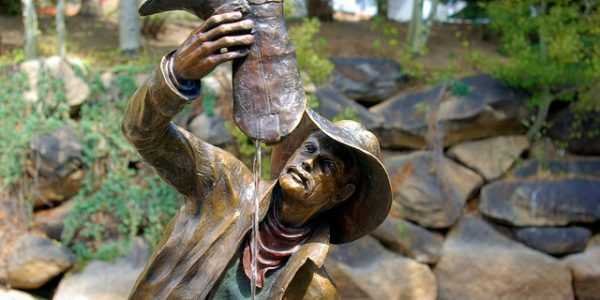 One thing that makes this town famous or infamous is The Stanley Hotel which was the filming place for "The Shining". This hotel does take guests and you too can stay in the place where the horror film was made.
There are all of the other typical things to do here like 4×4 tours, hiking tours, scenic drives, trolley rides, fishing, skiing, snowshoeing and more. You can find all Estes Park attractions here.
As for finding some weed friendly lodging Estes has quite a few choices for you. Our recommend place is The Inn on Fall River. Vetted to have cannabis friendly places on property to consume this place is right on the rivers edge and some cabins have hot tubs to soak in and patios to blaze on. You can find more cannabis friendly properties here.
This completes our top 5 places for weed friendly vacations in Colorado and hope you gained some great insights and information. These are just a few places out of the hundreds of sites and town to see in Colorado… but are a great starting point for any cannabis vacation. Have an elevated trip and stay safe!!